E-MOBILITY
High-performance resins support EV market / Suppliers present materials to meet auto sector demands
The sustainability of cars remains high on the agenda for consumers, the EU normative framework, and various industry and commercial actors in the automotive value chain, according to the Norwegian industrial polymer institute
Norner
(Porsgrunn;
www.norner.no
).
In particular, the EU framework related to batteries and end-of-life vehicles poses challenges to the automotive industry, the institute said, noting that it has been a developer of performance plastic solutions and a supporter of the sector's value chain both on materials and testing assignments.
According to one material supplier, the automotive industry's shift to e-mobility has increased the need for lightweighting components to maximise the energy efficiency of vehicles and mitigate the considerable weight of battery packs.
Related
:
Half of European-made cars in 2023 will be electric
Developments from material suppliers seeking to bring sustainability, efficiency, and performance to the burgeoning market for electric vehicles (EV) and hybrid electric vehicles (HEV) range from modelling software that predicts the performance of parts containing sustainable materials to formulations that retain or exceed performance versus an incumbent material while adding characteristics such as flame retardancy and heat resistance.
Compound producer
Sumika Polymer Compounds Europe
(SPC Europe;
www.sumikaeurope.com
), a subsidiary of
Sumitomo Chemical
(Tokyo;
www.sumitomo.co.jp
), said it has partnered with the Manufacturing Intelligence division of material modelling software maker
Hexagon
(Stockholm;
https://hexagon.com
) to digitise the performance of Sumika's new sustainable automotive-grade polypropylene compounds to allow product development teams to predict the performance of parts designed from the materials.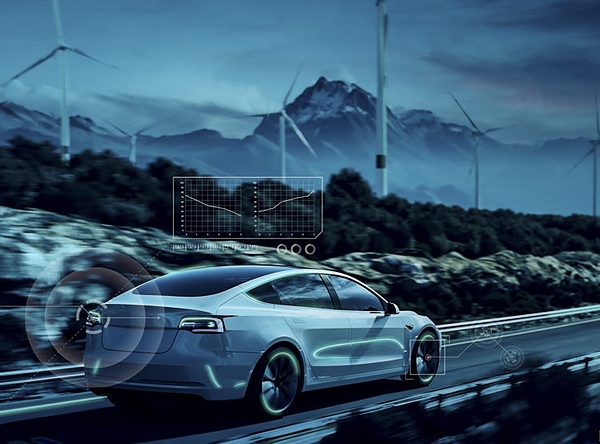 Modelling software is said to predict the performance of resins in car components (Photo: Sumika Polymer Compounds, Hexagon)
Hexagon's Digimat material modelling software is used to conduct a detailed and rigorous testing and physical validation program with SPC Europe to produce highly accurate multi-scale behavioural models of its Thermofil HP grades and Thermofil Circle portfolio of recycled PP grades. According to SPC Europe, each formulation has a model that simulates the materials' mechanical and environmental performance throughout a component's lifecycle. This allows product development teams to accurately simulate a component and subject it to established automotive engineering tests and validation. SPC Europe said the use of the behavioural model reduces physical material testing and prototyping.
It added that its short glass-fibre polypropylene Thermofil HP and glass-filled recycled PP Thermofil Circle materials benefit from sustainable manufacturing and recycling processes, offering carmakers performance equivalent to incumbent engineering plastics but with an up to 60% lower carbon footprint.
Guillaume Boisot
, the head of the Materials Excellence Centre at Hexagon, said, "Limited material behaviour data is a barrier to sustainable eMobility innovations because automotive engineering teams have not been able to put new materials through the rigorous virtual durability and safety tests required for automotive endorsement." 
Related
:
EU Commission seeks to increase recycling of scrap cars
PP properties said to meet demands for battery parts 
Saudi polymer producer
Sabic
(Riyadh;
www.sabic.com
) has announced the introduction of two materials said to be well-suited for sheet extrusion and thermoforming of large, complex structural parts including electric vehicle battery pack components such as top covers, enclosures, and module separators.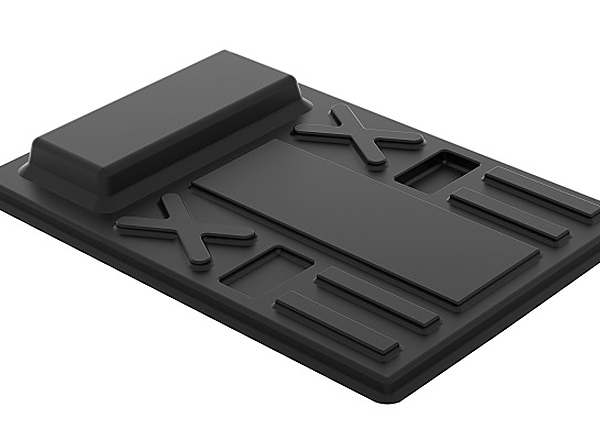 Glass-fibre filled PP targets battery applications (Photo: Sabic)


The company introduced Sabic PP compound H1090 resin, a short glass fibre reinforced material, and Stamax 30YH611 resin, a long glass fibre-reinforced material, as an alternative to traditional sheet metal forming, where it offers design, system cost, inherent thermal and electrical insulation, and weight advantages. The materials are also an alternative in similar applications to injection moulding of thermoplastics and compression moulding for thermosets, which requires expensive tooling and equipment, Sabic said.

The Sabic PP compound H1090 resin and Stamax 30YH611 resin grades both offer excellent thermal barrier properties to help delay or contain thermal runaway propagation, according to the supplier. Other key properties said to be exhibited by both materials include excellent stiffness, strength and impact resistance over a wide temperature range, dimensional stability, low coefficient of thermal expansion (CTE), and good creep resistance. The PP polymer matrix brings good electrical insulating properties, low density and good processability, the resin maker added.

Sabic said it has validated the mechanical and fire safety performance and manufacturability of the materials in EV battery applications with complex geometries, both in its labs and with customers.
The heat is on for battery components 
Technical compounds producer
Romira
(Pinneberg, Germany;
www.romira.de/en
) said new EV applications have led to increased demand for polymers with higher thermal and electrical properties and other features like electromagnetic interference shielding and thermal/electrical conductivity. In hybrid electric vehicles, the downsizing of the combustion engine leads to local hot spots, which thermal management systems need to be able to manage.
Romira's Romitron PPS series is said to offer characteristics such as outstanding heat resistance (continuous service temperature 200C), inherent flame retardancy, and excellent chemical resistance to meet the challenging EV requirements, the company said. Romira explained that the main drivers for its Romitron PPS in EVs and HEVs include high voltage plastic parts such as invertor and electric motor cores, housings and capacitor cases which need higher levels of flame retardancy and Comparative Tracking Index (CTI), and increased heat cycle/thermal shock resistance to withstand elevated temperatures, while having excellent heat cycle performance. The company noted that thermal management systems in EVs and HEVs support additional components such as lithium batteries, traction motors (with operating temperatures of coils up to 190C) and high-power electronic controllers for example.
Battery cooling system pumps operate during driving and charging cycles, so polymers with a higher level of chemical resistance are required, Romira said, adding that EVs and HEVs have different parts to be injected with metal inserts, such as high voltage busbars and thick copper bars. Romira's PPS blends and compounds reportedly offer good flow and excellent electrical insulation in these applications.
More voltage, more problems
Brian Baleno
, head of marketing for transportation at Belgian chemicals group
Solvay
(Brussels;
www.solvay.com
) said, "As automakers are moving from 400V to 800V on next generation electric vehicles, new regulations in Europe, China, the US, and other countries are increasing the demand on battery components to withstand temperatures from 300C to 1000C for an extended window of up to fifteen minutes."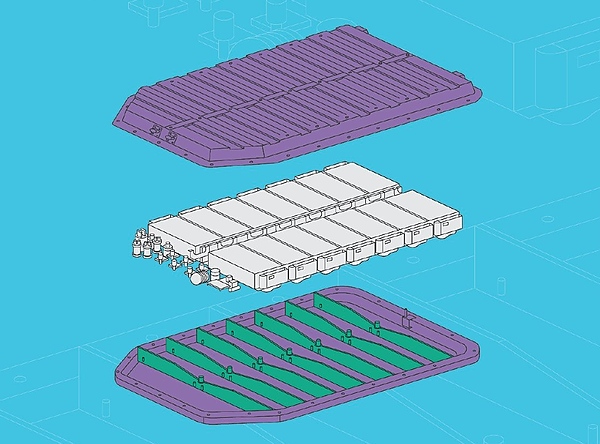 Liquid-crystal polymers target high-heat applications in high-voltage EVs (Image: Solvay)


To meet these new regulations and challenging thermal and insulation requirements, Solvay said it has extended its Xydar liquid crystal polymers portfolio with a new high-heat and flame-retardant grade designed to meet critical safety demands in EV battery components, specifically targeting battery module plates of EV models operating with higher voltage systems.

According to the company, its Xydar LCP G-330 HH is a glass filled injection moulding grade material capable of retaining its electrical insulation exposure to 400C for 30 minutes. The LCP material is said to be an inherently flame-retardant polymer, without the use of halogen or bromine additives. The supplier noted that it offers exceptional flowability and helps battery designers achieve thinner parts than possible compared to incumbent battery module insulation materials, such as polycarbonates or aerogels, and is a proven fit in many electrical and electronic and coating applications.
30.08.2023 Plasteurope.com [252395-0]
Published on 30.08.2023