DOW POLYURETHANES
Partnership with French mattress recycler Eco-mobilier / Supply of post-consumer PU foam
Dow Polyurethanes
(Horgen / Switzerland;
www.dowpolyurethanes.com
) has set up a partnership with used furniture collection and EPR organisation
Eco-mobilier
(Paris / France;
www.eco-mobilier.fr
) for the supply of post-consumer PU foam. The "Renuva" mattress recycling programme transforms discarded mattress foam back into a polyol feedstock via chemical recycling. The resultant "Renuva" polyols can be used in rigid, semi-rigid or flexible foam products, including insulation boards and mattresses, says Dow.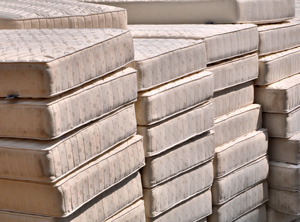 The Dow and Eco-mobilier collaboration aims to divert up to 200,000 mattresses from landfill or incineration (Photo: PantherMedia/lisa156)
Eco-mobilier is an organisation created in 2011 and approved by the French public authorities to be in charge of used furniture and mattress collection, sorting, recycling, energy recovery and reuse nationwide. It brings together more than 5,000 furniture element manufacturers and retailers in France, and an "eco-participation" fee is included in the price of new furniture. In 2019, this generated over EUR 175m.
The French organisation has been collecting mattresses since 2013 – 66,000 t were collected in 2019. In the partnership with Dow, it will employ its mattress collection and dismantling capabilities to supply post-consumer PU foam to an industrial facility operated by
Orrion Chemicals Orgaform
(Semoy / France;
www.oc-orgaform.com
) in Semoy. The European plant dedicated to PU foam chemical recycling is being set-up through a collaboration with Dow (see Plasteurope.com of
05.06.2020
).
Installation of the chemical recycling system is expected to take place during the second half of 2020. Initial production of the Renuva polyols is anticipated in the first half of 2021. Dow's Renuva programme aims to recycle up to 200,000 mattresses a year in France as a way to address the problem of waste landfilling and incineration as well as to validate work towards creating a market for polyols and a circular economy for polyurethanes, according to
Neil Carr
, president of Dow Europe, Middle East, Africa and India.
30.07.2020 Plasteurope.com [245606-0]
Published on 30.07.2020