DIGITALISATION
Mid-sized plastics companies still behind / KI Group Summit at "Fakuma" / Arno Rogalla says innovation must accelerate / Higher degree of digitalisation increases turnover and profit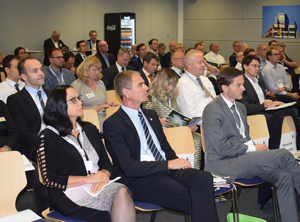 Trade show director Bettina Schall (left) welcomed the 150 guests at KI's summit (Photo: PIE)
More than 150 participants at this year's "KI Group Summit" at the "Fakuma" (
www.fakuma-messe.de
) trade fair prove that digitalisation is highly important in the plastics industry. The event on 17 October offered a series of different approaches towards digitalisation, which covered the entire value chain.
Whether in management, research, production or processing, there is no such thing as a "lucky strike" yet, but the first successes and signs are already visible. It will still take some time to reach the stated goals, although current developments are bringing small-scale efficiency and earnings growth.
Chris Willmanns
, head of digitalisation and innovation at consulting firm
Iskander Business Partner
(Munich / Germany;
www.i-b-partner.com
) presented the results of a study on the current state of digitalisation in German mid-sized companies. The findings show that German SMEs are doing better than expected with respect to digitalisation, as almost one in four respondents is in a good position. The study has also shown that companies with a high degree of digitalisation generate higher revenues and profits than those lagging behind.
Martin Bastian
, head of German plastics institute
SKZ
(Würzburg;
www.skz.de
), contradicted the assessment that many SMEs are well prepared. According to him, the share of pioneers in the plastics industry using digital processes in production planning is only at 1%. In order to inspire medium-sized companies, SKZ is planning to set up a model factory where smart solutions for injection moulding, additive manufacturing, automation, joining, quality assurance and knowledge transfer will be used and further developed.

Holger Ruckdäschel, BASF's head of digital innovation (Photo: PIE)
The head of digital innovation at
BASF
's Performance Materials segment (Ludwigshafen / Germany;
www.basf.com
),
Holger Ruckdäschel
, emphasised the company's strategy of involving customers, suppliers and partners in every developmental stage of digital business processes. BASF sees the constant feedback as important input for process development. Ruckdäschel presented a logistics project, whereby reusable pallets are networked with sensors so anyone in the supply chain can at any time retrieve the status of relevant parameters, such as temperature or storage location. This allows real-time monitoring of quality grades, replenishment needs and other factors.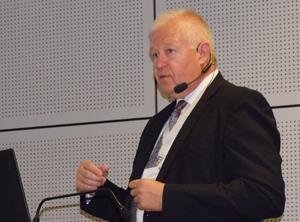 Festo Polymer's Klaus Hilmer (Photo: PIE)
Klaus Hilmer
reported on the practical experience
Festo Polymer
(St. Ingbert / Germany;
www.festo.com
) gained while implementing smart injection moulding production. The company is already reaping the benefits from the analysis of an ever-increasing amount of data. Despite this, big-data evaluation is still missing, said Hilmer. He expects uniform software for "swarm control" within the next five years. However, the ultimate goal must always be clear – all activities must consistently add value.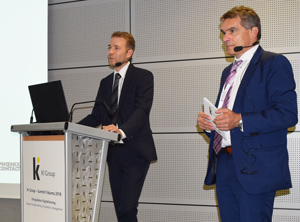 Raphael Rohde (left) from Phoenix Contact with KI managing director Andreas Hertsch (Photo: PIE)
Raphael Rohde
presented the digitalisation of toolmaking at processing group
Phoenix Contact
(Blomberg / Germany;
www.phoenixcontact.com
). The increasing competition in the toolmaking industry is a major reason for ramping up digitalisation, he explained. The collection, normalisation and evaluation of data are essential prerequisites for implementing automated actions and reactions to automatically control production – worldwide and across all locations. Ultimately, the digital system would decide on the necessary configurations to optimise production.
For his part, consultant and interim manager
Arno Rogalla
emphasised the fast pace of digitalisation in China. This also puts European processors under pressure. Rogalla said European innovation must therefore accelerate. Openness to connectivity as well as furthering skilled workers' qualifications are indispensable.
23.10.2018 Plasteurope.com [240925-0]
Published on 23.10.2018
German version of this article...