DELTA TECNIC
Production of PVC compounds that prevent generation of static electricity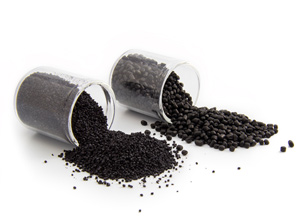 Semi-conductive or permanent dissipative PVC compounds (Photo: Delta Tecnic)
Delta Tecnic
(Barcelona / Spain;
www.deltatecnic.com
), manufacturer of colour concentrates and raw materials for plastics and cables, is producing flexible and semi-rigid polyvinyl chloride compounds that prevent the generation of static electricity. The product enables companies to reduce the risks in environments with electrostatic charges, which helps avoid explosions, undesired electrostatic charges and possible fires.
The compounds meet the requirements of European ATEX regulations, which ensure safety in areas classified as explosive atmospheres. Such environments are generated in industries that handle highly dangerous products such as fuels, hydrocarbons, fine-grained dusts or explosives, as well as in the petrochemical, plastic transformers, hospital and electronic sectors.
Delta Technic's compounds offer advantages over metallic coatings, as they are lighter and easier to handle. They are designed to be consistent even in thin extrusions and are available in wide-ranging applications from pipes, tubes and packaging to geomembranes and cable insulation.
30.04.2021 Plasteurope.com [247537-0]
Published on 30.04.2021