CORONAVIRUS
Wild West – did the US really confiscate medical masks destined for Berlin? / 3M under pressure from US "Defense Production Act"
Whether the US envoys actually said "your masks or your life" in true Wild West fashion before they walked off with the boxes of masks has not been divulged. The humorous thought could have crossed some people's minds after Berlin's state interior minister Andreas Geisel confirmed that the US had confiscated at Bangkok airport 200,000 FFP2 respiratory masks that had already been paid for and were intended for the Berlin police force. "We are currently proceeding on the assumption that this is connected with the export ban on masks issued by the American government," said Geisel. He said he was unable at the time to say anything about the background but added that he regarded the move as an "act of modern piracy."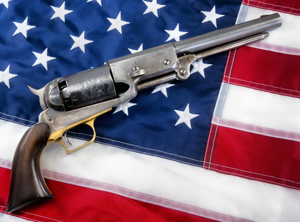 There was something of the Wild West in an alleged confiscation of medical masks bound for Berlin (Photo: PantherMedia/mj0007)
Since then Geisel seemed to have put his allegation into perspective. A delivery of masks had not reached Berlin, and one assumes this is in relation to the US government's export ban on masks, while there is no longer any talk about the allegation of piracy.
There is the old saying that "people in glass houses should not throw stones". It was only a few days ago that German customs authorities blocked medical supplies destined for Switzerland. The relevant regulation has since been relaxed to at least enable approval to be granted in exceptional cases.
But back to the Wild East. According to media reports, the masks come from US group
3M
(St. Paul, Minnesota / USA;
www.3m.com
) in China. That too is now in question.
Because numerous US governors and health officials had desperately called for help, US president
Donald Trump
, according to the New York Times, invoked a law from the 1950s – called the "Defense Production Act" – thus obliging US companies to supply as many breathing masks as possible to their home country.
This evidently did not go as smoothly as expected. According to the NYT, the White House reported that it had problems ensuring that 3M's entire production was sent to the right places throughout the world. 3M confirmed the reports, adding that the government had also tried to halt the export of US-manufactured masks to Canada and Latin America. The company had strongly objected to this, quoting humanitarian reasons.
A report from the
National Geographic Society
said the US needs around 300m masks and ventilators for hospitals and health services, but apparently has a reserve of only 15%.
French politicians also reproached the US for buying up protective masks from China destined for France for three or four times the price and overbidding normal orders.
Valérie Pécresse
, president of the central region of Île-de-France, is quoted in the newspaper Le Parisien about precisely such a case. "The Americans pay cash and buy blindly, making it naturally much more attractive for anyone who is out for a quick profit in this global emergency," she told the paper.
07.04.2020 Plasteurope.com [244878-0]
Published on 07.04.2020
German version of this article...