CONSUMER GOODS
BPF highlights 15 products and initiatives that promote recycling and sustainability
The environmental potential of consumer goods that are manufactured with recycled plastic and easy-to-recycle plastics has been highlighted by the
British Plastics Federation
(BPF, London;
www.bpf.co.uk
).
A total of 15 products made by UK and other European manufacturers have been chosen by the BPF, including at least one past winner of a Horners Award, run by the
Worshipful Company of Horners
and the BPF, and which is believed to be the longest running design award for plastics in the world, having been established in 1947. The 15 products are:
The Love Ocean bottle
The plastic bottle developed by
Love Ocean
(Winchester, UK;
www.loveocean.com
) is made from 100% recyclate and can be refilled with bath and skincare products from refill pouches. In addition, the equivalent of 1 kg of ocean-bound plastics will be removed with every bottle sold.
MacRebur 'plastic road'MacRebur
(Lockerbie, UK;
www.macrebur.com
) recovers difficult-to-recycle waste plastics and processes the products that would usually go to landfill or incineration as binder extenders and/or modifiers in roads. The equivalent of 80,000 plastics bottles are contained in 1 t of the company's mix.
Janger clothes hanger
Made from recycled plastics, the clothes hanger developed by
Janger
(Stock, UK;
www.thejanger.com
) is 100% recyclable due to its one-piece, one-material design. It uses 72% less plastics than conventional hangers and about 86% less energy in production.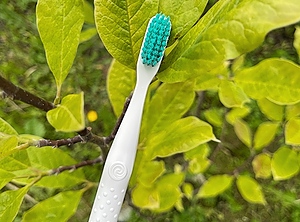 The bio-based, returnable, recyclable, re-mouldable, and zero-waste toothbrush (Photo: Instagram/@reswirl)
Reswirl toothbrush
With Reswirl, the
Toothbrush Club
(Stevenage, UK;
www.reswirl.eco
) has made what it claims to be the first bio-based, returnable, recyclable, re-mouldable, zero-waste toothbrush. A specially developed technique separates the bristles from the handles, which can then be recycled.
Impac-T food packagingPFF Packaging
's (Keighley, UK;
www.pff.uk.com
) fully recyclable Impact-T brand food packaging is made from rPET and card components that can be easily separated by consumers for onward recycling.
Coveris cheese pouches
With a new fully recyclable polyethylene barrier mono-laminate, the cheese pouch developed by
Coveris
(Vienna, Austria;
www.coveris.com
) won the Bottlemakers' Award for Plastic Packaging at this year's Horners' Awards.
Polytag tag and trace technology Polytag
's (Deeside, UK;
www.polytag.co.uk
) technology enables the implementation of Digital Deposit Return Schemes (DDRSs) by applying tags on packaging that consumers scan to redeem their deposits.
Terra Nova soil monitor
Developed by
Ryan Waterhouse
from
Bournemouth University
, Terra Nova is a portable device that monitors the health of topsoil, allowing users to track and prevent soil degradation.
Nestguest hedgehog housingNestguest Wildlife Habitats
(Dymock, UK;
www.nestguest.co.uk
) has created a 100% recyclable home using only recycled LLDPE to provide a safe and robust habitat for hedgehogs, one of the UK's most threatened animal species.
Circopack smart packaging
Made by
Gaia Packaging Solutions
(Wakefield, UK;
www.gaiaps.com
), Circopack is both a reusable package pouch and a circular service that allows customers to remove their goods from the pack and return the pouch for free. The packaging is then sanitised and reused.
Cirrus stress-reducing device
Cirrus, developed by
Daniele Di Paolo
, is a portable device aimed at reducing stress. It listens to a user's exhalations, facilitating deeper breaths by playing soothing sounds from its front speaker, while inflating a calming membrane on the back.
VarDAR Systems Flow Air Ring
The Variable Diameter Dual Directional Flow Air Ring made by
VarDAR Systems
(Toddington, UK;
www.vardarsystems.com
) won the 2022 Horners Award for its design to increase the productivity of the blown film process by adding additional cooling above the frost line.
AdBlue Bottles
A range of innovative jerrycans designed by
Ast
(Erndtebrück, Germany;
www.ast-kanister.de
), AdBlue Bottles are made with an integrated flexible spout nestled within the side wall of the container. The containers come in sizes ranging from 5-20 litres.
PolyGuard Hard plastic sheets
The PolyGuard brand plastic sheets made by
Peerless
(Thetford, UK;
www.peerless-coatings.co.uk
) feature the benefits of polycarbonate, such as high-impact strength, but with superior surface performance. Clear and hard-coated, the sheets have the appearance of glass but only about half the weight.
Plastribution's 7 Branches of Sustainability
The 7 Branches of Sustainability concept developed by
Plastribution
(Ashby de la Zouch, UK;
www.plastribution.co.uk
) is an innovative system for making intelligent material and design choices "driven by fact rather than sentiment". The system breaks down various approaches to sustainability into seven categories, detailing the pros and cons of each.
15.11.2022 Plasteurope.com [251542-0]
Published on 15.11.2022