COMPOSITES RECYCLING
Research project seeks new method for recycling composite waste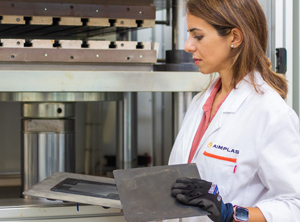 Aimplas' "Sparta" composites recycling project is set to run for two years (Photo: Aimplas)
Spanish plastics technology centre
Aimplas
(Valenica;
www.aimplas.net
) said it is coordinating the European "Sparta" project, which aims to develop a new method for recycling and reprocessing composite thermoplastic material waste generated by the aerospace industry. According to Aimplas, the aerospace sector is increasing its use of composite materials, but one drawback is the complexity of recycling such materials.
The new recycling method, developed in coordination with compatriot technology research centre
Tekniker
(Eibar;
www.tekniker.es
), is expected to result in the manufacture of high-quality composite thermoplastic products. The production cost of the recycled content could be 15-20% lower than current mechanical recycling and scrap processing procedures, Aimplas said.
The project will focus on improving material reprocessing through automatic deposition and compression moulding. It plans to make possible the use of up to 80% of current aerospace waste compared to other mechanical recycling methods, to cut processing times as much as 50% by reducing the number of steps in waste recovery, to reduce carbon emissions by up to 30% through the use of waste, and to curb production demand for virgin material. Tekniker is to contribute its knowledge in mechanical cutting for the development of an optimised mechanical scrapping process.
The project began September 2020 and will end October 2022. It has received funding from the European Union's "Horizon 2020" research and innovation programme. Aimplas recently launched the "Eliot" project, which focuses on recycling technologies for biocomposites (see Plasteurope.com of
21.09.2020
).
13.10.2020 Plasteurope.com [246067-0]
Published on 13.10.2020