CLARIANT
Masterbatch range for automotive plastic connectors
Clariant
(Muttenz / Switzerland;
www.clariant.com
) has introduced a series of colour masterbatches for high-temperature resins used in "Fakra" connectors, which provide 6 GHz of bandwidth to handle 5G cellular/data traffic for next-generation cars. They will begin appearing in 2021 models. Fakra connectors have 14 plug/jack combinations, each assigned with a colour, a function and a coded mating configuration that prevents misconnections.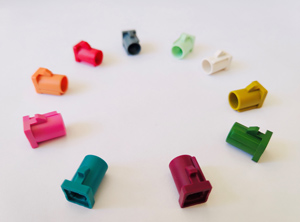 Available in 14 standard colours, Clariant's new masterbatches help ensure performance in high-temperature engineering plastics (Photo: Clariant)
Developed in cooperation with major global polymer producers, Clariant's 14 standard colours can be used in high-temperature engineering thermoplastics, such as polyamide 6.6, PBT and PPA, which are used to make the connectors. The company added that the masterbatches are available worldwide in small quantities as production of Fakra connectors ramps up.
"The market for Fakra-compliant coloured resins is in flux, with connector makers seeking reliable, colour-stable supplies but in relatively low quantities. Moulders are typically not yet able to commit to the large volumes that resin makers supply, especially in the initial stages of production or for the smaller colours' production," said
Peter Dufour
, global segment head and business development for consumer electronics, electrical and electronics at Clariant Masterbatches. He added that the masterbatches produce not only materials that meet Fakra standards for colour, mechanical properties and melt flow, but they also meet UL94 HB or V-0 flammability resistance requirements, without the use of halogens or substances of very high concern.
Clariant confirmed in December 2020 that it is proceeding as planned with the sale of its masterbatch business to
PolyOne
(Avon Lake, Ohio / USA;
www.polyone.com
). The sale is set to close in the third quarter of 2020 – see Plasteurope.com of
19.12.2019
.
06.03.2020 Plasteurope.com [244632-0]
Published on 06.03.2020