CIRCULAR ECONOMY
EU sets out action plan for more sustainable products and less packaging waste / Plastics a major target
To support the transformations targeted within the "Green Deal" (see Plasteurope.com of
27.01.2020
), the
European Commission
unveiled its new "
Circular Economy Action Plan
" on 11 March 2020. Plastics are a focus of the plan, which also includes electronics, information and communications technology (ICT), batteries and vehicles, textiles, construction, packaging and food.
Building on its "Strategy for Plastics in a Circular Economy" released in 2018 (see Plasteurope.com of
19.01.2018
) the commission will "take further targeted measures to address the sustainability challenges posed by this ubiquitous material and will continue to promote a concerted approach to tackle plastics pollution at global level." Consumption of polymers is expected to double in the next 20 years, according to the commission.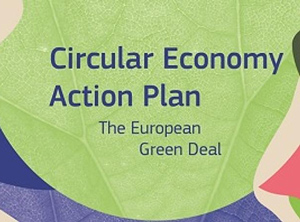 (Image: European Commission)
There are few targeted numbers listed, but key actions for 2021 include the restriction of intentionally added microplastics and unintentional release of microplastics, policy framework for bio-based and biodegradable polymers, an initiative to substitute single-use packaging, tableware and cutlery with reusable items in the food service sector.

Specific to microplastics, the EU action plan aims to restrict intentionally added microplastics, which will be of concern for companies working on masterbatches and polymer compounds. It also intends to tackle the unintentional release of microplastics with the development of labelling, standardisation, certification and regulatory measures.

Bio-based and biodegradable plastics will be handled by improvements to sourcing, labelling and usage, based on assessing whether the use of bio-based feedstock results in genuine environmental benefits and going beyond reduction of fossil resource use. For biodegradable polymers, an aim is to ensure labelling as "biodegradable" or "compostable" does not mislead consumers and result in disposal that causes littering and pollution.
An eye to creating a global plastics deal
To increase the uptake of recyclate and contribute to more sustainable usage of plastics, the commission will propose mandatory requirements for recycled content and waste reduction measures for key products such as packaging, construction materials and vehicles. The EU's "Circular Plastics Alliance" (see Plasteurope.com of
23.09.2019
) has a role to play here too.
Regarding packaging, the plan looks at reducing excess packaging and therefore waste, driving design for recyclability and minimising the complexity of materials – for example, the number of materials and types of plastics used. There are also plans to set up rules for the safe recycling of polymers other than PET into food-contact materials.
Looking towards the rest of the world, the commission is ambitious and wants to "lead efforts at international level to reach a global agreement on plastics" starting in 2020, in addition to promoting the EU's circular economy approach to polymers. Commissioner
Virginijus Sinkevičius
considers the action plan important for the environment and industrial policy. He said there are three goals: "We want to strengthen competitiveness of European industry, empower consumers and protect the environment at the same time."
13.03.2020 Plasteurope.com [244721-0]
Published on 13.03.2020
German version of this article...