CIRCULAR ECONOMY GERMANY
Federal government sets levy rates on SUP products / Funds to be directed to public sector 2025 onwards
Now that the German federal government has passed the
new single-use plastics fund act
, it is time to implement it. As part of which, the federal government recently set levy rates.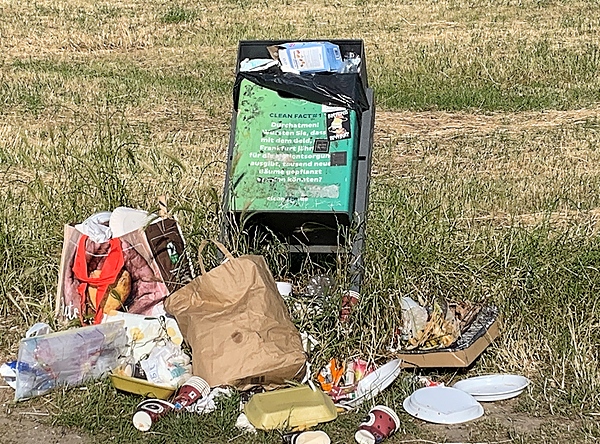 Summer, sun, picnics, garbage: it is clear now who will end up paying for it in the end (Photo: PIE)


From 1 January 2024, manufacturers of plastic products will have to pay a tax. For example, manufacturers will have to pay EUR 0.18/kg for food containers placed on the market, EUR 1.24/kg for beverage cups, and EUR 0.88/kg for pouch and film packaging. For light carrier bags, a levy of EUR 3.80/kg is planned, balloon producers have to pay EUR 4.34/kg and for tobacco products with filters the charge has been set at EUR 8.97/kg.

The money from the fund is to be paid out to the public sector from 2025 onwards – based on the previous year's figures – as compensation for the collection and disposal costs incurred. The calculation basis for this is a point system. The amount of money behind each point is determined by the "filling level" of the fund. For example, the municipalities are credited with ten points/km for cleaning streets within the city, three points for cleaning an area of 1,000 m², or 31.5 points for disposal per tonne of waste. 

With the single-use plastics fund act, the German government is implementing the EU directive on SUPs, which is primarily intended to curb the throwing away of plastics waste. The regulation aims to make producers of single-use plastic products contribute to the costs of waste disposal and the cleaning up of public spaces.
07.09.2023 Plasteurope.com [253550-0]
Published on 07.09.2023
German version of this article...