CINCINNATI EXTRUSION
Energy-efficient system for pipe production / Cooling section can be halved in length / Energy consumption reduced by up to 30%
The "KryoSys" polyolefin pipe manufacturing system from
Cincinnati Extrusion
(Vienna / Austria;
www.cet-austria.com
) combines a high speed extruder with a newly developed pipe die, an efficient pipe cooling section and a heat recovery system. Lines based on the system are designed for the production of smooth mono-layer and multi-layer PE or PP pipes with diameters ranging from 110 to 2,000 mm. They are also suitable for the production of corrugated pipes.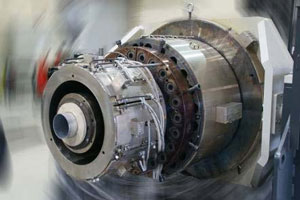 The newly developed "KryoS" pipe die (Photo: Cincinnati Extrusion)
Cincinnati says that the length of the cooling section can be halved compared with conventional extrusion lines, even for large pipe diameters. For example, a total length of 40 m is sufficient to produce a 400 mm PO pipe with a wall thickness of 36.4 mm using a "Monos+ 90-37G" extruder. Assuming an identical output level of 1,300 kg/h, the total length of a comparable, conventional pipe extrusion line would be 85 m. The company says that the cost of a KryoSys line is highly competitive compared to standard extrusion equipment.

The "KryoS" pipe die, which has been developed for KryoSys, is based on a spiral mandrel die to ensure optimal melt distribution. The die has an integrated melt cooling system that makes it possible to begin to reduce the melt temperature in the die, allowing a substantial reduction in the length of the cooling section. The lower melt temperature is claimed to result in a significant increase in viscosity at the point of exit from the die, which counteracts sagging, especially in thick-walled pipes. The KryoS also features a large internal aperture, which allows air cooling of the extruded melt. Finally, the system incorporates an efficient pipe cooling section which acts simultaneously from the outside and the inside through a combination of water and air cooling, permitting a further shortening of the cooling section.

A number of energy saving features have been incorporated in the system including direct drive, a reduction in the number of vacuum and spray cooling baths required for the downstream aggregates and the optimised water and air cooling system. Energy from the pipe cooling system in the die can also be used for material pre-heating, reducing the required torque in the extruder. Cincinnati claims that energy savings of up to 30% can be achieved by the system.
03.02.2009 Plasteurope.com [212643]
Published on 03.02.2009
German version of this article...