CHINA
Shanghai's waste separation law in effect / Demand for plastic bins climbs / Hainan island bans single-use plastics
On 1 July 2019, Shanghai's household waste regulations came into effect, with the city of over 25m inhabitants becoming the first in China to implement the mandatory classification and sorting of waste. Separation includes a recyclables category for plastics and other materials. Individuals and institutions face fines of CNY 200-50,000 (around EUR 26-6,500) for violating the rules.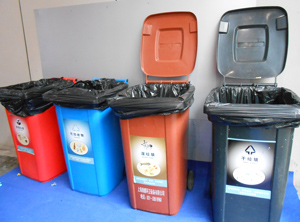 Bins for separated waste collection were a feature at "Chinaplas 2018" in Shanghai (Photo: PIE)
According to local media, the city's residents are in a period of adjustment to figure out what is to be disposed where in the new system, with people taking to Chinese social media platform Weibo to vent their frustrations. Designated bins have replaced the previous bins for general waste, and city officials are working on the challenges that are arising.

Additionally, government agencies and offices in Shanghai will restrict the usage of single-use plastic cups. Hotels are also not allowed to supply single-use daily necessities, while restaurants may not offer disposable tableware for dine-in and takeaway customers.
Waste sorting drives demand for plastic bins
Since May 2019, Shanghai has experienced skyrocketing demand for classified waste bins. Many converters have even suspended production lines of other plastic products in favour of manufacturing the more profitable plastic waste bins. The average price of a general waste bin made from plastic is around CNY 20, while the price of a classified waste bin is in the range of CNY 50-200.

In addition to Shanghai, 46 other major cities across China will implement mandatory waste classification by the end of 2020. By 2025, all large and provincial-level cities are expected to adopt waste sorting capabilities.

Outdoor waste containers are usually made from injection-grade HDPE, and indoor bins are mostly PP. Over the next few years, the demand for PP and HDPE is predicted to rise – albeit on a limited scale – owing to the surge of classified bins. It is possible that demand for virgin materials in China could drop in the long run due to increased availability of recycled plastics.
Hainan restricts SUPs
In February 2019, the island province of Hainan started phasing out non-degradable single-use plastic (SUP) products such as plastic carrier bags and tableware. Expected to be rolled out in stages, the province-wide ban will restrict the production, sale and use of disposable non-degradable plastic bags and tableware by the end of 2020. By 2025, the production, sale and use of plastic items on the list of prohibited non-degradable disposable plastic products will be fully banned. In July 2019, the trial list included non-degradable disposable films, bags and tableware made of polypropylene, polyethylene, polystyrene, polycarbonate, EVA and PET – the prohibited items are plastic carrier bags, paper-plastic composite bags, garbage bags, box containers, bowls, dishes, plates, cups, cutlery, straws, mixing sticks for drinks as well as caps and covers.

As part of this initiative, the island will cease the construction and expansion of production facilities for SUPs. It will also discontinue production plants of non-degradable disposable plastic products on the list. With this, Hainan's plastics industry will be transformed.
07.08.2019 Plasteurope.com [243082-0]
Published on 07.08.2019