CHILE
On track to ban plastic bags in coastal cities / Initiatives around the country to minimise waste / Ten companies commit to promoting recycled plastic packaging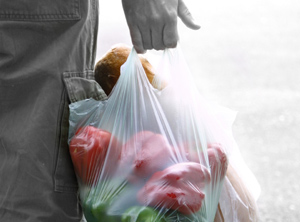 Chile is planning to curb marine litter by banning plastic bags in coastal cities (Photo: iStock/Izabela Habur)
During the
UN
's general assembly in New York / USA in September 2017, the president of Chile,
Michelle Bachelet
, announced plans to introduce a plastic bag ban in all coastal cities in Chile. The ban is to take effect within 12 months of the announcement, and will combat ocean litter along the country's coastline, which is thousands of kilometres long. Bachelet stressed the fundamental role the oceans also play in climate change, and that the government is "very concerned" about ocean acidification and rising water temperatures, as well as the contribution it thinks plastics have there. Speaking at the "Our Ocean" conference in early October 2017 in Malta, minister of Foreign Affairs
Heraldo Muñoz
also told attendees about Chile's plastic bag ban, which will make it the first country in the Americas to have a ban of this type.
At Chile's Ministry of Environment in July 2017, ten companies signed an agreement to implement changes into their product development cycles, including using plastics designed with a higher degree of recyclability. By signing the agreement, the companies –
Coca-Cola Chile
(
www.cocacoladechile.cl
),
Asipla
(
www.asipla.cl
),
Bureo
(
www.bureo.co
),
Clorox
(
https://chile.clorox.com
),
Demaría
(
www.demaria.cl
),
Dictuc
(
www.dictuc.cl
),
Karün
(
www.karunworld.com
),
Patagonia
(
www.patagonia.com
),
Sodimac
(
www.sodimac.cl
) and
TriCiclos
(
www.triciclos.net/en
) – commit to creating sustainability in Chile with "a new plastics economy," such as by promoting the use of recycled plastics in packaging. Minister of Environment,
Marcelo Mena
, noted that although plastic does not degrade, its "defect" can contribute to better eco-design.
In spring 2017, the Ministry of Environment also funded an initiative in Tocopilla, in northern Chile, to encourage citizens to reduce plastics (and other) waste that reaches landfills, through education about the detrimental impact of plastic bags on the environment. The ministry has also been involved in identifying and managing agricultural plastics problems in the country, including surveying over 1,000 farmers in 2016 about their plastics use and waste practices.
16.10.2017 Plasteurope.com [238013-0]
Published on 16.10.2017