CELLUGY
Sugar-based barrier seen as alternative to PE coatings for packaging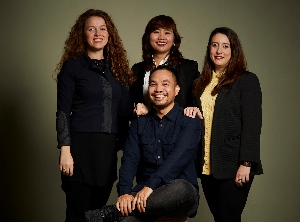 The Cellugy team: Parun Sihombing (seated), Serena Leka (l.), Deby Fapyane, Isabel Alvarez-Martos (Photo: Cellugy)
Danish start-up
Cellugy
(Aarhus;
www.cellugy.com
) said it has developed a sustainable barrier coating for paper and cardboard that can be recycled or composted with the packaging. The "EcoFlexy" coating material is made through the bioconversion of surplus sugar using a patent-pending "white biotech process," the company explained. A Cellugy spokesperson declined to provide further details about the procedure.
Founded by
Isabel Álvarez-Martos
,
Deby Fapyane
and
Paruntungan Sihombing
in 2018, the company has focused on developing nanocellulose for a variety of end markets. The aim is to create and commercialise high-performance derivatives by using biowaste as a raw material to offer alternatives to fossil-based materials.
Cellugy recently received a grant of EUR 2.38m from EU "Horizon 2020" research and innovation programme. The biotech firm said it intends to use part of this funding to build a pilot plant. The spokesperson declined to offer any further details.
Company co-founder Álvarez-Martos said, "The world produces approximately 360m t of plastic every year, and almost 40% is single-use. We created a company to contribute to the solution to such a problem."
Coated paper and cardboard are commonly used for packaging a wide variety of consumer products, such as milk, juices, fruit and vegetables. Co-founder Deby Fapyane said, "Polyethylene is typically used as the coating barrier in such materials. The problem we identified is that due to this multi-material technology, such packages are not biodegradable, compostable, or recyclable." She noted that the company's material can replace the PE, so the final packaging can be recycled in the existing waste management system.
21.01.2021 Plasteurope.com [246782-0]
Published on 21.01.2021
German version of this article...