CCL INDUSTRIES
Floating labels aim to improve PET recycling rate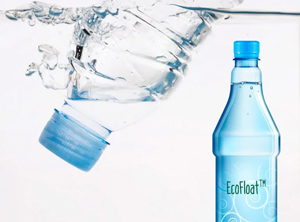 "EcoFloat" polyolefin shrink sleeves for PET bottles are intended to help reduce the contamination of PET flakes (Photo: CCL)
Printed shrink sleeves are extremely popular with brand owners since they make it easy to add design and content information to otherwise faceless PET containers. These film labels, often multilayer products with a PET or PVC basis, are pulled over a container such as a PET bottle and heated, shrinking to fit the container like a second skin.
However, the industry has been struggling with one problem for years – the labels should be collected separately for recycling. If they end up in a sink/float separator with shredded bottles, their residue settles at the bottom of the tank along with the PET fragments from the bottles. This is a problem for plastics recyclers because it sometimes results in bales with over 5% admixture instead of pure PET. These contaminants reduce the value of the recycled PET and limit its usability.
According to the
Association of Plastic Recyclers
(APR, Washington, D.C. / USA;
www.plasticsrecycling.org
), demand for rPET exceeds supply, which means that an optimal separation of containers and labels is also desirable from an economic point of view. Existing approaches, such as having the labels perforated so that consumers can remove and dispose of them separately at home, or the use of expensive label removal machines in recycling plants appear to be ineffective or unsatisfactory.
Low-density label material to enter market in 2020
The Canadian label manufacturer
CCL Industries
(Toronto, Ontario;
www.cclind.com
), which has been in the news in the past few months due to a series of acquisitions, has announced a solution in a recent statement. The new "EcoFloat" label material is made of transparent polyolefin and has a maximum density of 0.93 g/cm³, allowing it to float even with ink. This makes it easy to separate from PET components in a water bath. According to the company, this will help to improve the recycling rate of the packaging industry and support the PET bottle-to-bottle recycling process.
Corresponding certification according to European PET Bottle Platform (EBPB) and APR standards will likely be completed in the first quarter of 2020. The new material is 50 μm thick, has a soft surface and aims to offer brand owners full design freedom. According to CCL, it can be processed in the same way as other shrink film labels and offers a shrink rate of over 60%.
24.01.2020 Plasteurope.com [244277-0]
Published on 24.01.2020
German version of this article...