BRITVIC
Investment in packaging group helps soft drinks producer shift towards 100% rPET bottles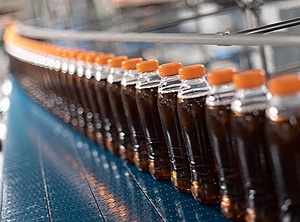 This summer, Robinsons' "Ready to Drink", "Lipton Ice Tea" and "drench" 500ml bottles have been moved to 100% rPET (Photo: Britvic)
Soft drinks giant
Britvic
(Hemel Hempstead / UK;
www.britvic.com
) has shifted UK production of plastic bottles for a number of its key brands from virgin polymer to recycled material, as part of its stated commitment to move all UK-made bottles to 100% rPET by 2022.
The group said such a move was possible thanks to its GBP 5m (EUR 5.8m) investment in UK packaging firm
Esterform Packaging
(Tenbury Wells;
www.esterform.com
) back in 2019 in order to support the domestic production of rPET in the UK. "Today we are seeing the benefits of that investment. Most recently, Robinsons' "Ready to Drink", "Lipton Ice Tea" and "drench" moved their 500 ml on-the-go bottles to 100% rPET from Esterform," Britvic said in a statement. By switching these three brands to rPET, Britvic says it is set to save 1,354 t/y of virgin plastic, in addition to the 1,900 t already saved by "Ballygowan Mineral Water" and "Fruit Shoot Hydro" rPET bottles.
The investment in Esterform followed Britvic's assessment that the UK's existing recycling infrastructure was not sufficient enough to help it make its UK plastic bottles from 100% recycled PET by 2022, as had been hoped. The deal "provides [us] with a secure, long-term supply of UK-sourced rPET, allowing us to continue to reduce our use of virgin plastic and increase our rPET packaging", the soft drinks producer said. Recently,
Wildlife and Countryside Link
(WCL, London / UK;
www.wcl.org.uk
) also thrashed UK government's failure to commit to an "all-in" bottle deposit scheme (see Plasteurope.com of
31.08.2021
).
Britvic is also a signatory to
Wrap
's (Banbury / UK;
www.wrap.org.uk
) UK Plastics Pact, an initiative by leading companies, NGOs and the UK government to reduce and ultimately eliminate single-use plastic packaging, and subsequently its waste (see Plasteurope.com of
07.06.2019
).
06.09.2021 Plasteurope.com [248463-0]
Published on 06.09.2021