BEVERAGE CARTON RECYCLING
Manufacturers take charge of recycling post-consumer materials / Groundbreaking ceremony for facility in Germany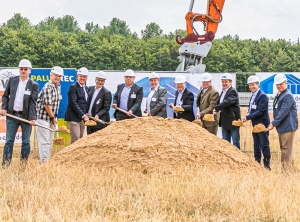 The groundbreaking ceremony – Palurec was founded to improve the recyclability of beverage cartons (Photo: FKN)
The leading European manufacturers of beverage cartons are working together to forge ahead with the recycling of carton packaging materials that have been sent for disposal in the past. The German association for liquid food carton packaging
Fachverband Kartonverpackungen für flüssige Nahrungsmittel
(FKN, Berlin;
www.getraenkekarton.de
) founded
Palurec
for this purpose at the end of 2017. The association is mainly supported by the three market leaders,
Tetra Pak
(Lausanne / Switzerland;
www.tetrapak.com
),
SIG Combibloc
(Neuhausen / Switzerland;
www.sig.biz
) and
Elopak
(Spikkestad / Norway;
www.elopak.com
). The three companies together produce 95% of all beverage carton packaging used in Germany. Unlike in France and Italy, for example, the majority of milk in Germany is sold in cartons as opposed to PET or HDPE bottles.
Following completion of the initial planning, the groundbreaking ceremony was staged for a new EUR 8m plant for recovering plastic and aluminium from beverage carton packaging. On the site of the chemical industrial park in Knapsack / Germany near Cologne, Palurec is to recycle 18,000 t/y of mixed-material film made from polyethylene and aluminium as well as HDPE closures into secondary raw material as of mid-2020. The predominant fibre component of the cartons is manufactured in paper factories, and these materials simply become waste – a situation that has led to beverage cartons being classified as "non-recyclable" in Germany's "Duales" system, or separated kerbside waste collection scheme.
"There have already been a number of attempts to recycle these residual composite materials. They have not been able to establish themselves over the long term, however. That is why we are tackling the matter ourselves and taking on responsibility," said Palurec managing director
Michael Brandl
at the groundbreaking. The recycling operation is conducted on segregation units, "which have already proved their capability during many years in service and which are able to mechanically/physically separate such inhomogeneous material mixtures," Brandl added.
19.07.2019 Plasteurope.com [242958-0]
Published on 19.07.2019
German version of this article...