BERRY GLOBAL
Coffee capsules from bio-based raw materials / Project with Neste supplies German coffee chain Tchibo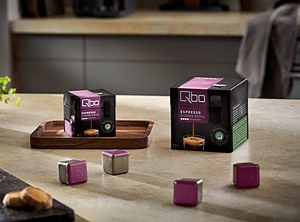 The bio-based coffee capsules by Berry Global's Qbo brand (Photo: Berry Global)
US packaging giant
Berry Global
(Evansville, Indiana;
www.berryglobal.com
) has partnered with German coffee brand
Tchibo
and Finnish refiner
Neste
(Espoo;
www.neste.com
) to produce coffee capsules from renewable sources that do not compete with food.
The capsules for Tchibo's Qbo brand are produced from bio-based raw materials such as waste and residue oils and fats, like used cooking oils, as opposed to the traditional single-use capsules made of virgin polypropylene.
A life-cycle analysis carried out by the
Technical University of Berlin
has shown that the conversion of the Qbo capsule material results in around 35% fewer carbon emissions, according to Berry. The renewable materials are supplied via a mass-balance approach, certified by the ISCC Plus certification scheme. Berry said the renewable feedstock can easily be introduced into existing production lines without any changes.
Related:
NatureWorks, IMA partnership to develop compostable pods
Marius-Konstantin Wiche
, the development manager for capsule and innovation at Tchibo, said the company needed to ensure that the quality and taste of the coffee brand was not altered in the process, "That's why we focused on replacing the raw materials for the capsules, not the PP itself. The renewable materials go into producing PP polymers with the same quality as virgin PP; you won't see or taste any difference."
Towards the end of 2021, Berry unveiled its ambitious sustainable packaging goal of using 30% circular plastics across fast-moving consumer goods' packaging by 2030, which surpassed its previous goal to use 10% post-consumer recycled resin by 2025. "Circular plastics include recycled and renewable resins like bioplastics," the group said.
27.07.2022 Plasteurope.com [250818-0]
Published on 27.07.2022