BAUSANO
Custom extruders make composites with natural fibre waste / Use of recycling materials for profiles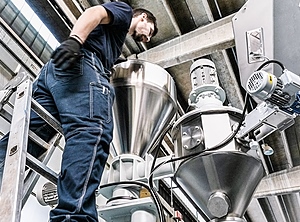 The company is responding to sustainability demands by ramping up its extrusion technology (Photo: Bausano)
Italian extrusion line producer
Bausano & Figli
(Torino;
www.bausano.com
) said its custom lines for PVC, polyethylene, or polypropylene plastics waste and natural fibres or substances of plant origin can produce composite materials. The material's high resistance to corrosion, atmospheric agents, UV rays, and impermeability are said to make them suitable for automotive internal linings for door panels, dashboards, and trunks, as well as for furniture, floors, or cladding.
Bausano's extrusion technology is said to use twin-screws to achieve accurate mixing of the melted polymer and wood or natural fibre, passing it through the mould without the need for a melt pump. The technology can incorporate up to around 45 kg/hr of wood dust or natural fibres such as rice husks, banana peels, seaweed, almond shells, avocado kernels, cork, and coffee grounds, according to the supplier.
The company said its direct extrusion approach produces profiles directly from the raw material and can process fibres with a humidity level up to 12% at a speed three times higher compared to other solutions on the market.
Bausano also offers an indirect extrusion approach where the material starts from a granule. These specially designed machines are said to enable the use of recycling materials and can be configured with premixing or gravimetric dosing systems upstream. The granules can be transformed into a finished product either through moulding or extrusion, with a single or twin screw unit, the company noted.
18.01.2022 Plasteurope.com [249359-0]
Published on 18.01.2022