AVANTIUM
Launch of revised commercialisation strategy for "YXY" process / Site decision due H2 2019 / EUR 1.3m grant from EU
Dutch renewables company
Avantium
(Amsterdam;
www.avantium.com
) has revised its strategy for commercialising its proprietary "YXY" technology that converts plant-based sugars into a variety of chemicals and plastics, including polyethylene furanoate (PEF). The company said
BASF
's (Ludwigshafen / Germany;
www.basf.com
) exit from their
Synvina
joint venture in December 2018 – see Plasteurope.com of
08.01.2019
– has "created new avenues" for commercialisation.
Avantium revealed the new plans during its "Technology & Markets" Day on 6 June 2019 at its Amsterdam headquarters, adding that since the split from BASF, it has been exploring different scenarios with both potential partners and customers to redefine a strategy that meets both market and capital requirements. The company now intends to build a "cash-flow positive" flagship plant to produce 5,000 t/y of PEF and its feedstock furandicarboxylic acid (FDCA) with start-up scheduled in 2023. Australian contractor
Worley
(Sydney;
www.worleyparsons.com
), which has been commissioned to perform engineering studies, has already begun design work on the plant.
The Dutch company expects to finalise site selection in the second half of 2019, although it noted that the site will be located in northwestern continental Europe. Funds of around EUR 150m are needed for the project, and commitments for financial contributions are expected before Avantium makes an investment decision in late 2020.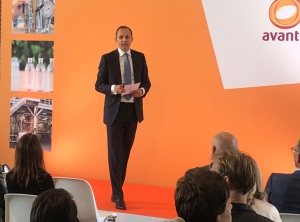 Avantium CEO Tom van Aken (Photo: Avantium)
Output will be focused on products for high-value markets and performance applications such as high-barrier films and speciality bottles. CEO
Tom van Aken
said, "As we progress our learning curve and increase scale in the future, PEF will be able to compete in high-volume markets, including bottles for carbonated soft drinks and other beverages." According to Avantium, the market potential for PEF in films, packaging and textiles will reach more than EUR 200 bn.
The former Synvina JV is now known as
Avantium Renewable Polymers
. Avantium said it will maintain control of the YXY licensing business while building a "network of committed partners" throughout the value chain.
As well as its YXY technology, Avantium has two other processes – "Dawn", which converts non-food biomass into industrial sugars and lignin, and "Mekong", which catalytically converts industrial sugars to plant-based MEG (a new material for PET). The company is currently building a 10 t/y demonstration plant for Mekong in Delfzijl / The Netherlands, with start-up anticipated by the end of 2019 – see Plasteurope.com of
03.04.2019
.
Current plans envisage starting up flagship plants for Dawn and Mekong in 2023 and 2024, respectively. Avantium forecasts that global MEG consumption market will potentially expand at a compound annual growth rate (CAGR) of 3.5%, from 28m t in 2019 to 50m t in 2038.
In separate news, Avantium has announced it has won a grant of EUR 1.3m for both its Dawn and Mekong technologies from the
Bio-Based Industries Joint Undertaking
(BBI JU;
www.bbi-europe.eu
) under the
European Union
's "Horizon 2020" research and innovation programme. The grant is part of a bigger award worth EUR 5.9m that the BBI JU has granted to the "Vehicle" (Valorise Extensive quantities of HemIcellulosic and Cellulosic sugars from Lignocellulosic biomass into high-value End products) industry consortium. Coordinated by Avantium, the four-year project is working on developing 100% plant-base chemicals from renewable raw materials. Avantium's role in Vehicle is to provide sugar streams from non-food feedstock, produced in its Dawn pilot biorefinery at Delfzijl.
Zanna McFerson
, managing director of
Avantium Renewable Chemistries
, said the grant was a "strong signal" for Avantium and its Vehicle partners to continue their development work. The other companies involved in Vehicle are
Ecohelix
(Stockholm / Sweden;
www.ecohelix.se
),
Fundacio Universitaria Balmes
(Barcelona / Spain;
www.uvic.cat
),
Graanul Biotech Ou
(Tallinn / Estonia;
www.graanulinvest.com
),
Kemira
(Helsinki / Finland;
www.kemira.com
),
Metgen Oy
(Kaarina / Finland;
www.metgen.com
),
Novamont
(Novara / Italy;
www.novamont.com
) and
Spinverse
(Espoo / Finland;
www.spinverse.com
).
02.07.2019 Plasteurope.com [242781-0]
Published on 02.07.2019