AUTOMOTIVE SUPPLY
Weight reduction reigns supreme / Materials set to debut at K 2022
Carmakers have spent decades researching and implementing ways of bringing down the weight of their vehicles. In the 1970s, when oil embargos sparked soaring crude prices, lighter cars meant less fuel consumption.
Today, climate change concerns and the drive to reduce carbon emissions has put the automotive sector on a new path of weight reduction amid environmental considerations. Manufacturers recognise the benefits plastics components offer, whether it is lighter, high-performance engine parts, interior trim, or even synthetic drive belts. The sustainability message is also clear to materials suppliers, who continue to produce game-changing innovations.
Growing pressure on car manufacturers to reduce the weight of their vehicles and reflect the public's concerns about the environment will have a positive knock-on effect for resin makers, especially those working with recycled content, according to US research firm
Frost & Sullivan
(Santa Clara, California;
www.frost.com
).
Its report, Global Automotive Plastics Growth Opportunities, said as sustainability and decarbonisation gains prominence in the global automotive sector, the industry would "inflate the demand for greener alternatives to minimise carbon emissions in the next three to five years. Due to this, established OEMs will collaboratively advance recycling technologies or acquire recycling companies to ensure supply security."
To exploit the new opportunities the report suggested that plastics producers offering polybutylene terephthalate and polyamide should collaborate with OEMs to develop and scale plastics-based components, especially battery housings, and it recommended that resin suppliers team up with component manufacturers to develop recycled grades that ensure performance on par with components made from virgin resin.
Resin makers answer call for automotive materials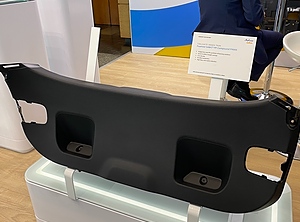 Finished inner tailgate trim part made with Sabic's PPc F9005 grade through foam injection moulding (Photo: Sabic)
Saudi chemicals giant
Sabic
(Riyadh;
www.sabic.com
) has rolled out a portfolio of polypropylene compounds for foam injection moulding of interior car parts. According to Sabic, the mineral-reinforced grades PPc F9005, PPc F9007, and PPc F9015 produce a better quality finish for visible automotive interior parts with complex geometries, such as door panels and trim, seat and boot cladding, A through D pillar covers, and centre consoles.
The group said that according to a life cycle assessment study (pending third-party review), the advanced new materials can help OEMs lower carbon dioxide emissions by as much as 15%.
The Saudi company has also introduced two short-glass fibre-reinforced polypropylene compounds, G3430X and G3440X, designed for under-the-bonnet, exterior, and interior applications, such as brackets, seat structures, and centre consoles. Sabic said the G3430X grade, featuring 30% short glass fibre, and the G3440X grade, with 40%, "deliver superior physical properties versus conventional short glass fibre PP materials, along with high melt flow for easy processing". The high melt flow also reportedly allows for the design of thin-wall components to reduce weight without compromising the part's overall performance.
Related
:
Sabic to expand polyolefin materials plant in South Korea
Additionally, the company has launched two LNP Thermocomp compounds, which it claims can improve signal gain performance over the use of ceramics in antennas for second-generation automotive global navigation satellite system (GNSS). The compounds, LNP Thermocomp ZKC0CXXD and LNP Thermocomp ZKC0DXXD, help enable the design and moulding of antenna substrates that feature more-complex pattern markings, which add effective surface area and enhance signal capture. The compounds feature electroplating capability and good thermal resistance, and Sabic said both were well-suited for shark fin-style and new conformal antenna designs.
BMW is using fishing nets as a sustainable material for auto parts (Photo: Plastix)
In what it claims is an industry first, German sportscar company
BMW
is working with Danish waste processor
Plastix
(Lemvig;
www.plastixglobal.com
) using recycled marine waste, including old fishing nets, to produce trim parts for its vehicles.
The car manufacturer said it sourced nets and ropes from ports and with Plastix turned them into a recyclate capable of being injection-moulded. "Until now, the automotive industry has only used recycled marine plastics in the form of fibres for new vehicle components," BMW said. "However, this recyclate can now for the first time be used in injection moulding."
The components made from the material are trim parts used in both hidden and visible areas for the exterior and interior of its all-electric Neue Klasse models, the carmaker added.
US materials manufacturer
Momentive Performance Materials
(MPM, Waterford, New York;
www.momentive.com
) is launching a number of products for its liquid silicone rubber (LSR) and hardcoat portfolios at this month's K Show in Düsseldorf. The LSR grades NL6830FR and NL6850FR have potential in applications including seals in the intake area of combustion engines, and O-rings, MPM said. Its Silopren LSR 2725/40 is a self-lubricating grade that reportedly enables short cycle times, while the third generation of its low-temperature cure LSR allows for lower mould temperatures while maintaining short heating times to save energy.
MPM said its hardcoats division would present sustainable materials and energy-saving solutions in the field of scratch- and weather-resistant protective coatings for automotive exterior parts.
This month's K Show in Düsseldorf set to feature a concept for a wallbox for charging electric vehicles created by
Covestro
(Leverkusen, Germany;
www.covestro.com
), German coating specialist
Leonhard Kurz
(Fuerth;
www.leonhard-kurz.com
) and
Sumitomo (SHI) Demag
(Schwaig, Germany;
www.sumitomo-shi-demag.de
). Polycarbonate compounds from Covestro's Makrolon RE product range and Makrofol PC films are used in the product. Both have a very low carbon footprint, according to Covestro, and are made with raw materials derived from bio-waste and residues and produced partly using renewable electricity. "The sustainable origin of the raw materials is certified according to International Sustainability and Carbon Certification Plus and mass balanced," Covestro said.
Swedish materials manufacturer
Hexpol TPE
(Malmö;
www.hexpol.com
) has joined the Polestar (0) project, the brainchild of the Swedish electric performance car company
Polestar
(Gothenburg;
www.polestar.com
), which aims to create the world's first truly carbon-neutral car by 2030. The agreement with Hexpol covers the firm's Swedish plant in Åmål, and support is to include research into advancing possibilities with bio-based and recycled content. In addition, the project's scope will involve supply chain mapping to identify sources of emissions and investigate logistics systems with zero carbon emissions.
Related
:
Hexpol partners with Plastix to produce TPEs from marine waste
German automotive components manufacturer
Continental
(Hanover;
www.continental.com
) has unveiled a new timing belt, Sustainabelt, whose profile side is made from a new and patented synthetic rubber compound rather than the standard polychloroprene. Continental said compared to rival products, the belt generates a 50% smaller carbon footprint in its lifetime. The tension members and fabric of the belts are made with organic fibres and biopolymers from renewable raw materials. Sustainabelt also enables higher power transmission and offers improved temperature resistance, Continental added.
Related
:
Continental starts restructuring plan at plastics division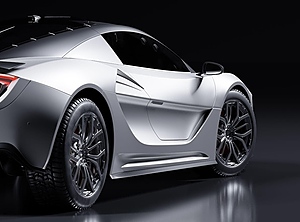 Solvay has launched a new SolvaLite surfacing film for next gen composite systems in auto applications (Photo: Solvay)
Super smooth painted car panels are the goal of
Solvay
(Brussels;
www.solvay.com
), which has launched SolvaLite SF200, a surfacing film said to require a curing time of less than 10 minutes at 150C. The new film "lends prepreg layups for high-class automotive body panels a very smooth cured surface, where impeccable flatness is an indispensable prerequisite for painting," according to the company. The product is set to be officially introduced at the US Composite and Advanced Materials Expo in Anaheim, California, which runs from 17-20 October.
Röchling Industrial
, the plastics processing operation owned by Germany's
Röchling Group
(Mannheim;
www.roechling.com
), has launched two flame retardant products for use in railway seating units, which the company says contain 70% recycled materials. Röchling said its Maywoflamm plus RC complies with the European railway standard EN 45545-2:2020, classification R6/HL2, while Maywoflamm NFPA RC is tested according to NFPA 130 and BSS7239:1988 and can be used in the US.
Röchling's Maywoflamm products target rail vehicle interior fittings, such as trim or rear seat shells. "Both materials are characterised by their low weight, compared to metallic materials, and their high mechanical strength," the supplier added.
Related
:
Röchling shifts Czech production from Planá nad Lužnicí to Tábor
10.10.2022 Plasteurope.com [250914-0]
Published on 10.10.2022