AUTOMOTIVE RECYCLING
Audi, Mercedes-Benz incorporate more recycled material in serial production / Chemical reclaim of plastics waste from cars project
Thanks to the pressure from evolving industry standards and end consumers, automakers are now committing to a "greener" future. This, in turn, is reportedly driving suppliers to make investments to develop recyclable parts or plug their businesses to renewable energy. In keeping with the same, two German automakers say their partnerships, collaborations, and projects are advancing their fossil-free initiatives.
Audi
(Ingolstadt;
www.audi.com
) in 2022 said it is launching pilot reprocessing projects for a growing number of materials and components to gain experience with different processing techniques and produce derivatives for future applications of particular raw materials.
Audi is looking at mechanical, chemical, and most recently, physical recycling, in which it is conducting a feasibility study in cooperation with
Fraunhofer Institute for Process Engineering and Packaging
. Unlike in chemical recycling, plastics are not destroyed in the physical recycling process, but instead dissolved with solvents. No chemical degradation takes place, and the polymer chains remain undamaged. Substances that are harmless are used as solvents. After drying, a very pure polymer granulate results that matches the quality of a virgin material.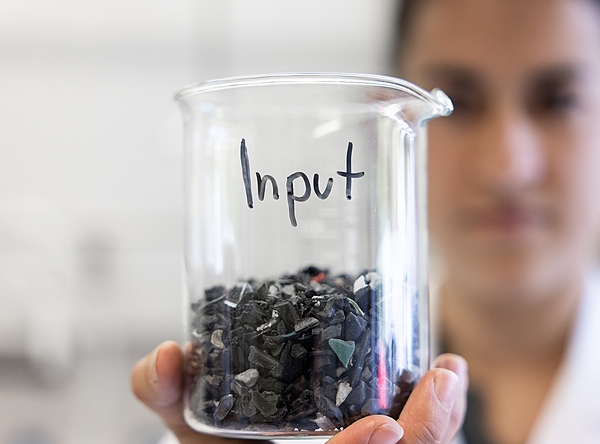 Heavy shredder fractions as input material for physical recycling (Photo: Audi)
Related:
Car makers face growing pressure to reflect public's concerns about the environment
Audi and the
Karlsruhe Institute for Technology
launched the Chemical Recycling of Plastics in Automotive Engineering pilot project targeting the recovery of automotive mixed waste plastics. Audi is supplying end-of-life automotive items including fuel tanks, wheel trim parts and radiator grills for chemical recycling processing into pyrolysis oil. The pyrolysis oil is made into material corresponding to equally high-grade petroleum products that can be used again in automobiles.
Last November, Audi premiered its Q8 e-tron model vehicles with casings for the seatbelt buckles partially manufactured from mixed automotive plastics waste using a chemical recycling process. It is the first time the automaker installed safety components made in this way. Audi
worked with US resin maker
LyondellBasell
on the process.
Mercedes-Benz
(Stuttgart;
www.mercedes-benz.com
) has announced series production of automotive components made from chemically recycled scrap tires supplied by the company. Waste tire specialist
Pyrum Innovations
(Dillingen, Germany;
www.pyrum.net
) generates pyrolysis oil from the tires.
German chemical giant
BASF
(Ludwigshafen;
www.basf.com
) combines the pyrolysis oil with biomethane it produces from agricultural waste. A
virgin-quality polymer
that is certified in accordance with a mass balance approach is created. Mercedes-Benz's EQE and S-Class models are the first series-production vehicles to be equipped with bow door handles manufactured by the process.
Related
:
Half of European-made cars in 2023 will be electric
22.03.2023 Plasteurope.com [251297-0]
Published on 22.03.2023