AUTOMOTIVE GLAZING
Sabic offers PC alternative to glass for automotive applications / Resins have potential to replace metal in EV components: study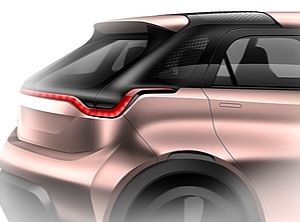 The company says it's Lexan PC resins offer advantages for automotive rear quarter window applications (Photo: Sabic)
Saudi Arabian chemicals and plastics giant
Sabic
(Riyadh;
www.sabic.com
) said a recent design study on rear-quarter automotive windows showed its Lexan polycarbonate offers light-weighting, design, and cost advantages over glass. Moreover, use of the material can achieve sustainability in automotive windows while allowing radically differentiated styling with the consolidation and integration of parts and functions, and enhancing aerodynamics. Electric vehicles (EVs) are a target area for the advanced automotive design concepts.
The study, conducted by Sabic designers and engineers, showed the feasibility of the design concepts, which include curved forms, sharp angles, and other configurations not achievable with glass. Window designs that combine aesthetics with practical performance are produced with Lexan PC materials using well-established processing methods and secondary operations developed for automotive glazing applications. Concepts for rear-quarter side window or rear side window concepts featured integrated components, including rear lighting, door latches, D-pillar trim, and even a sunroof. One rear-quarter window concept was integrated with taillights.
Related:
Sabic launches three "Trucircle" grades for automotive applications
At last year's "Battery Show Europe Conference & Expo" in Stuttgart, Germany, the ccompany used several of its resin families to demonstrate concepts as well as pilot and commercial solutions aimed at advancing safety, scalable manufacturing, energy efficiency, and durability for e-mobility batteries and energy storage devices. Sabic resins can replace metal while meeting challenges in EV battery components, such as resistance to fire, light-weighting, and parts consolidation, the company says.
EV batteries do not go to sleep when not in use, and are normally charged over hours and unattended, added Sabic. Its flame retardant halogen-free materials have intumescent and char-forming properties, making them fit for module housings, EV charging connectors, brackets, and frames, for example.
19.01.2022 Plasteurope.com [249382-0]
Published on 19.01.2022