APTAR
Partnerships with PureCycle Technologies and Loop e-commerce platform / Deal with Nippon Closures for tethered bottle caps / H1 sales up 5% on strong pharma demand
US packaging and dispensing systems manufacturer
AptarGroup
(Crystal Lake, Illinois;
www.aptar.com
) is working with
PureCycle Technologies
(Ironton, Ohio / USA;
www.purecycletech.com
) to introduce the latter's "ultrapure" recycled polypropylene into dispensing applications. Developed and licensed by major consumer goods group
Procter & Gamble
(Cincinnati, Ohio;
www.pg.com
), PureCycle's patented recycling process separates colour, odour and other contaminants from plastics waste and transforms it into high-quality rPP resin.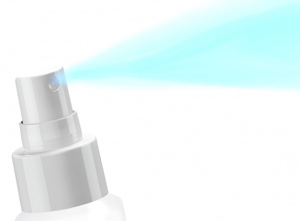 Aptar manufactures closures and spray pumps as well as plastic packaging (Photo: Aptar)
Over the next three years, Aptar will collaborate with PureCycle, providing critical feedback on the transformation process and helping to prepare for food-grade requirements in Europe. PureCycle's CEO
Mike Otworth
said Aptar's broad technical expertise, deep market and knowledge and operational pre-eminence in US and European markets will help it accelerate its expansion into Europe.
PureCycle plans to build its first PP recycling plant in Lawrence County, Ohio – see Plasteurope.com of
09.08.2017
. The plant is expected to recycle 54,000 t/y of PP, producing approximately 45,000 t/y of its ultrapure rPP starting in 2021.
The
Association of Plastics Recyclers
(APR, Washington, D.C. / USA;
www.plasticsrecycling.org
) has identified over 450,000 t of recycled PP demand in North America alone, most of which is for high-quality recyclate. According to
Transparency Market Research
(Albany, New York / USA;
www.transparencymarketresearch.com
), the global PP market is worth more than USD 80 bn (EUR 72.5 bn) and is on track to reach USD 133.3 bn by 2023.
Packaging collaborations with Loop and NCC
Last month, AptarGroup entered into a couple of collaborations, one with
Loop
, a circular shopping platform from
TerraCycle
(Trenton, New Jersey / USA;
www.terracycle.com
) – see Plasteurope.com of
28.01.2019
– and another with Japan's
Nippon Closures
(NCC, Tokyo;
www.ncc-caps.co.jp
).
The Loop platform allows customers to buy products in reusable packaging, which are then returned to Loop for cleaning, refilling and reuse. Aptar currently provides lotion pumps for several of the products on Loop's online shopping platform. As part of the agreement, Aptar's president of food and beverage,
Marc Prieur
, will sit on Loop's advisory board.
The deal with NCC is an exclusive partnership to cross license technology for developing tethered beverage closures that are more convenient for customers and better for the environment. "Aptar and NCC are committed to keeping beverage caps attached to the bottle to promote better recyclability and we look forward to working together to bring even more innovative solutions to market," Prieur said.
Strong growth in first-half sales
Separately, Aptar reported second-quarter 2019 sales of USD 743m, up roughly 4% (excluding currency effects) on the USD 711m achieved in the same quarter last year. The company cited strong demand for its drug delivery and food dispensing solutions although noted lower custom tooling sales in its beauty and home segment as well as lower sales in the personal care market.

For January through June 2019, sales were up about 5% to USD 1.49 bn from USD 1.41 bn in first-half 2018. Looking ahead, Aptar CEO Stephan Tanda expects the pharma segment to continue its positive momentum along with some growth in beauty and home. However, he said personal care customers are anticipating weaker volumes in the near term and he anticipates lower custom tool sales compared to a year ago.
12.09.2019 Plasteurope.com [243383-0]
Published on 12.09.2019