AMAZON
Removal of single-use plastic packaging in 50 warehouses in India / Expansion of "Packaging-Free Shipping" initiative to 100+ cities
Amazon India
(Bangalore, Karnataka / India;
www.amazon.in
) said it has eliminated 100% single-use plastic packaging across more than 50 of its national fulfilment centres. The move follows a pledge the e-commerce company made last September to meet this goal by June 2020.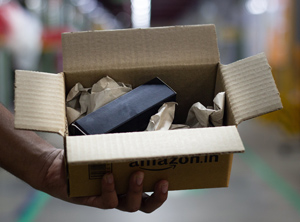 India is seeing less plastic packaging from Amazon deliveries (Photo: Amazon India)
The Indian arm of the US-based online giant said it took several steps to achieve its "significant milestone". Last December, it replaced plastic bubble wraps and air pillows with paper cushions, then earlier this year, the company introduced 100% plastic-free and biodegradable paper tape to seal shipments. It also replaced thin cling films with alternatives that were not disposable plastics.
Prakash Kumar Dutta,
Amazon India's director of customer fulfilment and supply chain, said the company has continued to take progressive steps towards ensuring it meets its commitment while at the same time navigating through unprecedented challenges with the coronavirus pandemic and subsequent lockdowns. Earlier in June, Amazon India announced that it had expanded its "Packaging-Free Shipping" initiative to more than 100 cities across the country. The company first launched this programme in June 2019 in just nine cities, transporting multiple orders in re-usable totes.
The online retailer explained that it uses machine learning algorithms to adjust packaging protection depending on the product and transportation conditions. Packaging-free products include such items as technology accessories, home and home-improvement goods, shoes and luggage, among others. Liquids, fragile goods and personal care products that need additional protection during shipment continue to have packaging. The company noted that more than 40% of customer orders shipped through India's fulfilment centres are now either packaging-free or have significantly reduced packaging.
On other continents, Amazon has implemented the opposite strategy, likely due to the way plastic packaging waste is collected and sorted in certain countries. In Germany and the US, the company has opted to use lightweight flexible plastic mailers instead of paper-based packaging and cardboard boxes (see Plasteurope.com of
27.03.2019
and
19.09.2019
).
20.07.2020 Plasteurope.com [245525-0]
Published on 20.07.2020