AGRICULTURAL PLASTICS
Established global film collection and recycling systems point the way / Cooperation through the agricultural chain vital for future success / EPRO calls for exchange of know-how to develop systems further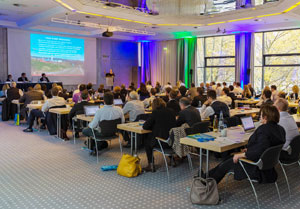 The recycling forum was attended by about 120 people (Photo: RIGK)
Shared responsibility throughout the agricultural plastics recycling chain is the basis for long-term success. This was one of the key findings from the "1st International Forum on Agricultural Plastics – Potential for Recycling" which was held in Wiesbaden / Germany, from 4-6 November. The conference was organised by German waste management service
RIGK
(Wiesbaden;
www.rigk.de
) in partnership with the
European Association of Plastics Recycling & Recovery Organisations
(EPRO, Brussels / Belgium;
www.epro-plasticsrecycling.org
).
Speakers agreed that international demand for recovery and recycling solutions was high and continuing to increase. They also emphasised that all countries with successful collection and recovery systems attained high recycling quotas, regardless of whether the systems operated commercially or voluntarily.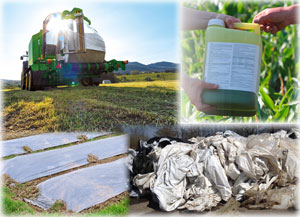 Recycling of agricultural films is key to developing new technologies (Photo: RIGK)
However, it was acknowledged that only the systematic collection of agricultural film, sheeting, nets, yarns, irrigation systems and packaging of various products such as crop protection and fertilisers, could make recycling truly beneficial and enable the necessary development of innovative technologies.
Participants sought clarification with regard to pre-cleaning work by the farmer which they said could improve efficiency even further.
Bernard Le Moine
of
Agriculture Plastique Environnement
(Levallois Perret / France;
www.agriculture-plastiques-environnement-ape.eu
) said it was indispensable that recyclers could rely on continuous and consistent co-operation with farmers who generate the waste. He noted that a low level of contamination was a key success factor and this was an issue that could be resolved with farmers, although speakers agreed that a certain amount of contamination was unavoidable in practice.
Whether silo or stretch, agriculture no longer works without plastics. In April 2014, the crop plastics project
Initiative Erntekunststoffe Recycling Deutschland
(ERDE;
www.erde-recycling.de
) was launched in Germany. The initiative has since gained in acceptance and the number of Germany-wide collection points has risen. In his presentation on "The German Agricultural Film Initiative - An Innovative Approach",
IK
's
Jürgen Bruder
illustrated that the growing global population and the rising demand for foodstuffs is driving the need for sustainable solutions to produce food more efficiently and more resource-friendly. In this regard, agricultural film has become "indispensable", making it all the more important to fully exploit its recycling potential. Germany's agricultural industry uses several tens of thousands of tonnes of different plastics products each year. Bruder pointed out that about 2,170 t of stretch and silo film was collected in the country in 2014, most of which was recycled.
Werner Herbold
of machinery manufacturer
Herbold Meckesheim
(Meckesheim / Germany;
www.herbold.com
) added that thorough cleaning of the collected waste at an early stage was another success factor. "Only if the highly abrasive components are efficiently separated off can further processing make economic sense," he said.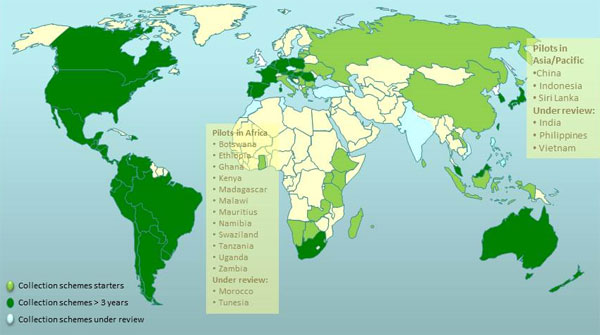 Collection schemes for agricultural plastics are in place, planned or in the making in 70 countries (Illustration: BASF)
Summing up,
Peter Sundt
, EPRO's general secretary, said a certain proportion of the agriculturally used plastic products was packaging for which the EU directive on packaging and packaging waste and the principle of extended producer responsibility applied. "Many members of the EPRO have recognised that there are a number of common features between conventional household and industry packs, agricultural packaging and further-reaching applications of plastics in agriculture. For this reason, they have made agricultural plastics a core topic on their agenda. They are calling for an exchange of the know-how within the EPRO and their members in order to release synergies and enable win-win situations for all concerned," he said.
Around 120 industry executives from 22 countries attended the conference, which included an overview of the type of plastics involved and the relevant political frameworks, individual operating experiences in various countries as well as innovative recycling techniques.
e-Service:
"ERDE – The German Agricultural Film Initiative: An Innovative Approach" presentation by Jürgen Bruder as
a PDF file
"Plasticulture: A contribution to an Intensive Ecological Agriculture" by Bernard le Moine as
a PDF file
02.12.2015 Plasteurope.com [232653-0]
Published on 02.12.2015
German version of this article...