3D PRINTING
Cecimo calls on additive manufacturers to aid hospitals / Need for critical equipment during Covid-19 outbreak
Europe's association of the machine tool industries
Cecimo
(Brussels / Belgium;
www.cecimo.eu
) called on additive manufacturers to help hospitals experiencing severe shortages of critical medical equipment or essential supplies, such as valves or ventilators, due to the coronavirus outbreak. The
European Commission
requested Cecimo address its membership and request aid in producing equipment that hospitals in Europe are lacking, according to a press release from the association.
"I believe that the additive manufacturing sector can play an important role in sustaining the effort of hospital workers in the middle of this emergency," said
Filip Geerts
, Cecimo director general. On 27 March, the machine tool industry association announced the option for companies to send their details directly to the commission's "European Civil Protection and Humanitarian Aid Operations" department (ECHO):
EU-COVID19-OFFERS-TO-ERCC@ec.europa.eu
.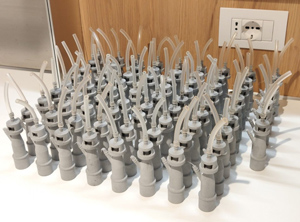 Isinnova 3D-printed valves for ventilators at a hospital in Brescia, where there was a shortage of these parts (Photo: Isinnova)
The response from Cecimo members has been so far positive, with many companies from the European additive manufacturing industry volunteering to aid hospitals and health centres by proposing use of their 3D printing machines. Earlier in March,
Isinnova
(Brescia / Italy;
www.isinnova.it
) helped out a local hospital by 3D printing valves for ventilators that were in short supply. The company has also created a type of emergency ventilator mask by modulating a snorkeling mask.
Yet from a regulatory point of view there are legal constraints that can hamper the full implementation of 3D printing solutions. One issue is that member states should consider temporarily waiving some of the medical device requirements for strategic goods during this period of crisis, says Cecimo.
The European Commission claims it will facilitate all companies helping in this time and also protect them from potential legal issues. EU commissioner
Thierry Breton
highlighted technologies such as 3D printing that should be included in the scope of a new fund aiming to sustain different sectors such as healthcare. Cecimo's Geerts said "it is in the best interest of all to clarify the regulatory issues in order to move forward quickly and in a way that is not going to delay immediate actions." The commission has also provided
guidelines
intended to help additive manufacturers increase the production of "3D printed products to be used in a medical context for Covid-19."
30.03.2020 Plasteurope.com 1048 [244815-0]
Published on 30.03.2020
German version of this article...