POLYMER PRICES
Polyurethane feedstocks in January 2012: TDI reverses and points upward /MDI and polyols in strong rollover / Balanced supply, improved demand / Only building still soft / MDI producers seek fresh hikes
TDI was the only one of the European polyurethane feedstocks to move upward in January, although MDI and polyols did see a strong rollover. Even if TDI's rise was relatively significant, it fell short of the EUR 200/t producers were seeking. They did, however, rein in some of the EUR 192/t leap in the benzene contract for January.

Most of producers' reduced output after throttling capacity in Q3 2011 was quickly gobbled up by converters reordering after the Christmas holiday period. The order surge did not create any noticeable bottlenecks, but it did serve to draw down the oversupply seen earlier. Buying of polymeric MDI and rigid polyols used by the building industry was seasonally slack. TDI demand was driven upward in particular by automotive seating used in German luxury cars.

Due to volatile petrochemical prices, margins of PUR feedstock producers have come under considerable pressure. Even if they didn't manage to push through half of their targeted increase, MDI producers have not dropped their calls for EUR 200/t hikes. Most polyol manufacturers slashed their targets in half, to just over EUR 100/t. The more balanced supply and the return of the building season will help the TDI side in its drive to move notations forward. It is clear that the next longer-term agreements will be sealed at higher prices, whereby the extent of the rise will determine how much monthly contract prices will increase.
Outages and maintenance turnarounds
At the beginning of January, BASF began a four-week maintenance turnaround at its MDI plants in Geismar, Louisiana / USA.
MDI
Change January against December: Up EUR 15-20/t
As in December, spot notations pointed to a significant cost rise for the key aromatic benzene, and some MDI producers were poised to pounce on announced increases of EUR 100/t for the PU feedstock. The January benzene contract was fixed 29% higher at EUR 863/t, but slack demand between the Christmas and New Year holidays kept the lid on MDI hikes. For more specified grades of polymeric MDI, notations gained as much as EUR 40/t, but specified grades of pure MDI added only EUR 30/t. Against this background, it is not surprising that some insulation sheet manufacturers were able to secure large contingents of base MDI grades at prices more than 10% below the Plasteurope.com range. The premium of pure over polymeric material diminished from EUR 70/t to 65/t.

Supply: Balanced (pure) to long (polymeric). As usual at the beginning of the new year, demand was boosted by converters' restocking. At the same time, the continued mild weather increasingly supported ordering of polymeric MDI. After several months of sluggish demand, the footwear season finally got off the ground at the beginning of 2012. However, producers' reduced capacity was not sufficient to meet the increasing demand, especially as BASF's plant at Geismar, Louisiana / USA was down for maintenance for an entire month. This means that buyers of pure MDI can expect some delivery delays.

Demand: Normal. The mild winter and inventory refilling increased the ordering dynamics for polymeric MDI as January advanced. As the footwear industry began to reorder for the new season, sales of the pure grade soared.

Outlook for February: In the first month of 2012, surging benzene made deep inroads into MDI producers' margins. As a result, one producer stepped forward and announced a price increase of EUR 150/t. The polymeric side hopes that preparations for the building season will pull order volume and thus notations quickly upward. Producers of pure MDI, who have limited capacity, are hoping for even more dynamic development. All in all, substantial price increases will be hard to avoid.
TDI
Change January against December: Up EUR 65/t
Starting in Q2 2011, TDI prices receded by more than 17%, or EUR 350/t, up to the end of the year. At the beginning of the fourth quarter, when the toluene contract reference price fell by 8% and the cost relief did not help improve margins, TDI producers began reducing supply. Simultaneously, they announced price increases of EUR 200/t for January. For dollar-denominated markets the target was set at "at least USD 200/t." As all were suffering from soft margins, producers showed solidarity with each other and emphatically stressed that there would be no further concessions. Generally, orders were filled at EUR 100/t more than a month earlier. Even large accounts had to pay at least EUR 30/t more.

Supply: Long to balanced. The cutbacks made earlier by some producers tightened supply in the first weeks of January. For less-specified TDI grades, the gradually increasing demand usually could be met.

Demand: Normal. Following a short holiday break, foamers supplying the automotive industry in northwestern Europe began reordering, as did the upholstery and bedding sectors.

Outlook for February: The mood in the industry at the beginning of the new year was improved, in Europe as well as Asia and North America. This boosted demand for petrochemicals, leading the January toluene contract to rise by EUR 20/t to EUR 835/t and creating a welcome opportunity for TDI producers to seek margin improvement. Depending on the previously achieved price level, some producers can be expected to energetically try to factor in the remainder of the targeted triple-digit rises. Another driving factor could be the price levels negotiated for long-term contracts. Producers can be expected to achieve most of their price goals.
POLYOLS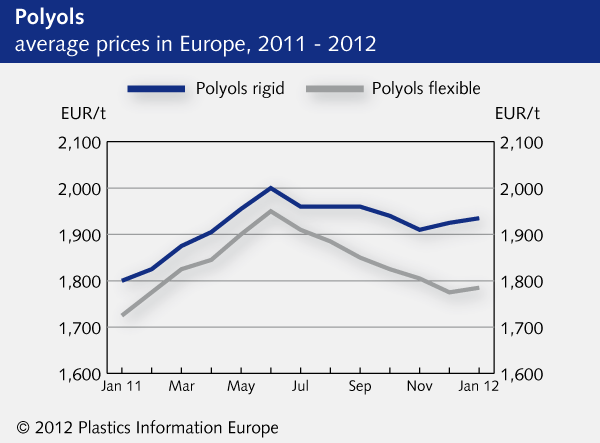 Change January against December: Up EUR 10/t
The rise of EUR 20/t in January´s propylene contract to EUR 1,015/t reverberated down into the polyol feedstock propylene oxide (PO). This slight increase was hardly enough to justify polyol producers' calls for hikes of up to EUR 200/t, but it could be seen as an attempt to improve long-sagging margins in one fell swoop. The initiative had no chance at success, as supply was long in Europe as well as Asia. In the end, only EUR 20/t, for specified grades, was accepted by the market. The upper end of the Plasteurope.com range saw a slight rise, while the lower end showed no change, as standard material generally changed hands at a rollover. Larger accounts could buy at around 3% below the range.
Supply: Balanced to long. After a long drawdown of reserves in the second half of last year, the need to reorder boosted off-take in early 2012. Producers of the most basic grades of polyols to produce flexible slabstock again were able to supply without delay. The most commodity-like grades of rigid polyols also were generally easy to find.
Demand: Normal. As expected, orders for polyols to produce slabstock for the bedding and upholstery sectors gained some dynamic. Automotive foamers quickly returned from their short holiday break and reordered. Demand for poloyls for rigid insulation foam was soft, in line with the season.
Outlook for February: Despite the weak start to the new year, polyols producers do not intend to back away from their hike plans. At the same time, many of them believe that a plus of EUR 100/t is the most they can hope for. There are no supply bottlenecks for the basic grades used in flexible foam or standard insulation sheets. Producers of flexible foam for automotive roof liners can rely on steady demand from their customers. In contrast, there is no noticeable upward trend for material used in inexpensive bedding and upholstered furniture. Producers of insulation sheet regard the second month of the year as a gap to be bridged before the building season gets under way. Most players will use this time to build up reserves for the months of strong demand.
Many converters of rigid polyols warn that producers' excessive demands will simply provoke different buying tactics. If converters stage a buying boycott, polyol producers moving back into normal output mode after a holiday break could find themselves sitting on too much material. Despite the sabre rattling, buyers are unlikely to want to miss a sale for lack of reserves. One thing is certain: in the long production month of February, with 20 working days, polyol prices will be higher than in January.
Prices Isocyanates / Polyols (EUR/t)
Components
January 2012
December 2011
MDI polymeric
1,820
-
2,000
1,820
-
1,960
MDI pure
1,900
-
2,050
1,900
-
2,020
TDI
1,750
-
1,900
1,720
-
1,800
Polyols flexible
1,750
-
1,820
1,750
-
1,800
Polyols rigid
1,900
-
1,970
1,900
-
1,950
Data without guarantee. Compiled: 20 January 2012
More on PIEWeb.com:
Polyurethanes: Data & Charts
24.01.2012 Plasteurope.com 852 [220904-0]
Published on 24.01.2012

German version of this article...
Free samples of PIE's price reports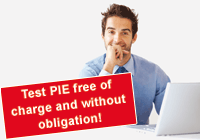 Check out our past polymer coverage completely free of charge:
Want to access more recent price reports?
Sign up for a free trial now on PIEWeb.com...