POLYMER PRICES
Engineering recyclate January 2012: Prices roll over across the board / Stock replenishing measures drive demand / Automotive sector gets off to a strong start / Recyclers plan significant hikes
Notations for engineering recyclate largely moved sideways from mid-December 2011 to mid-January 2012. Although the primary market saw massive cost reductions in Q4 last year, plastic scrap prices remained unchanged at a high level, which is why regrinders were unwilling to grant any concessions to their recyclate customers.

Whereas demand was dominated by measures to minimise stock levels at the end of last year, it grew significantly in the first half of January. Despite being inundated with urgent orders, regrinders were able to supply fairly quickly. Automotive suppliers continued to account for the largest share of the business following the short break at the end of last year.

Recyclate suppliers fear that the dramatic rise feedstock costs, reflected in January's benzene and styrene contracts (up EUR 192/t and EUR 120/t respectively), will have a considerable impact on primary notations. In fact, virgin polymer producers have already responded with announcements of triple-digit hikes. Depending on how successful they are in pushing through these increases, the hikes will also impact the cost of plastic scrap. Regrinders are making no bones about the fact that, given their emaciated margins, they will pass on any cost increase without delay.
rABS: Unchanged
Even though prices on the primary market declined towards the end of last year, this decrease did not impact the market for ABS recyclate. The gap of more than EUR 600/t or 30% between the price of virgin natural ABS and the regrind material was large enough to reject calls for any rebates.

On the primary market, the rapid nosedive of the styrene (SM) contract reference price in Q4 last year was followed by an equally dynamic movement in the opposite direction in January, as SM rose by EUR 120/t. The butadiene (BU) notation also changed course, bouncing back by EUR 50/t following four months of consecutive declines. In addition, there are signs of a turnaround in the cost of acrylonitrile (ACN), too. With spot notations rising by EUR 50-80/t in the first two weeks of January, it seems fairly likely that the downward trend of the past few months has ended. Primary producers responded by calling for hikes of up to EUR 120/t, dashing recyclers' hopes for cheaper polymer scrap. In fact, in line with the trend of the last few months, prices of production scrap have remained unchanged.

Supply was balanced to good. The widely anticipated surge in orders to replenish stocks gained even more momentum amid the clear signs of price hikes on the primary market. As a result, demand rose significantly in the first two weeks of January. After completing maintenance turnarounds at the end of the year, many recyclers were quick to snap up the readily available base polymer and restart their regrinding lines, which they ran flat out. As a result, they were generally able to meet buyers' needs with little delay – at least for less specified ABS recyclate.

Demand was normal. When business kicked off again in the new year, converters were confronted with the prospect of rapidly approaching price increases. Those who reacted quickly were able to change their orders from primary to secondary material.

Heading into February, one recyclate supplier told Plasteurope.com that given developments on the primary market, "engineering recyclate will inevitably go up, too." On the one hand, measures to top up inventories are driving prices higher, while, on the other, the weak euro is inhibiting imports of virgin material. Needless to say, these developments will definitely affect the procurement of plastic scrap, which is expensive anyway. Several recyclers have already said that they will have no alternative but to counter this ever-increasing pressure on margins by hiking prices in the near future. The extent of the proposed hikes will be determined some time in the second half of January, after the market's response to primary sector price hikes becomes clear. This wait-and-see approach could result in prices remaining flat at least until the end of January.
rPA 6: Unchanged
With numerous longer-running agreements in place, price fluctuations were a rarity in December and January – which, amid the holidays, many converters regard as "half-months" anyway.

In primary market developments, the price of benzene jumped by EUR 192/t in January, following months of decline. This buried any hopes that caprolactam, linked directly to benzene, might return to lower regions, where it stood before prices began spiralling. Hopes that virgin polyamide 6 resin (the base material of compounds) notations would drop were also quashed. As a precaution, producers postponed their price negotiations with quarterly customers from December to the second half of January. Pointing to the renewed cost increases and supported by lively demand, producers will try to avoid passing on any of their Q4 cost savings. Should they succeed, recyclers – who are desperately hoping for cheaper production scrap – will find themselves between a rock and a hard place, since their margins have already born the brunt of high plastic scrap prices during the long stint of expensive virgin material. To ensure ongoing stable operations, they are in dire need of some form of relief.

Supply was balanced to good. Following December's drastic stock clearing efforts, demand rose appreciably in the first third of January. Many regrinding lines were offline for maintenance between Christmas and new year, but resumed full operation on 2 January. As a result, suppliers had little problem coping with the lively demand for standard rPA 6 at the beginning of the month.

Demand was normal. Because many converters had run down their stocks to virtually zero before Christmas, they wasted no time putting in new orders for recyclate in the first week of January. Automotive suppliers once again were at the forefront of the activity.

Looking towards February, one pessimistic recycler told Plasteurope.com that "the situation with production scrap is just the same as ever," adding that the latest rise in feedstock cost surely will keep primary notations stable at their high level. "Without being granted even one cent off the cost of our production scrap, we were forced to slash our rPA 6 prices in Q4, which severely decimated our margins," the player continued. "With our cost base remaining high, we have no alternative but to take back the reductions for rPA 6 we granted in the last quarter of 2011." For the time being, however, the many PA 6 recyclate prices agreed to in November will remain in place. In February at the latest, recyclers should be able to make good of their promise to revert prices to their Q3 2011 levels.
rPA 6.6: Unchanged
With plastic scrap prices stable, recyclers were unable to benefit from Q4's small cost reduction in primary prices. It was thus not surprising that they insisted on rolling over December's prices when the first order agreements for rPA 6.6 were fixed in the new year.

The primary market saw feedstock costs fall in Q4 last year, so far that they almost reached the level of before last year's boom. At the same time, however, primary notations fell by as much as 3%. On the feedstock side, the EUR 50/t rise in January's butadiene contract marked a provisional end to the downward trend. Given the cutbacks in feedstock output, market insiders do not predict additional price reductions for either adipic acid or virgin polyamide 6.6 resin (the base material of compounds). Since producers rode the wave of high polymer prices in Q4, improving their margins quite considerably in the process, converters are pushing for significant reductions in the first quarter of the new year. However, one large supplier has already turned down calls for price cuts. Consequently, nothing much has changed with regard to regrinders' plastic scrap purchases, and costs remain high.

Supply was balanced to good. Recyclate suppliers were well prepared to meet the rise in demand resulting from January's stock-replenishing measures. In addition, base polymer was readily available due to the fact that various regrinding lines had been switched off during the holidays. As a rule, customers were supplied with standard grades almost immediately.

Demand was normal. Numerous car manufacturers only ceased production for a brief time between Christmas and New Year, so that order volumes returned to normal rather quickly during the first few days of January.

Heading into February, recyclers are keeping a watchful eye on the primary market. Any hopes that producers would submit to pressure from converters were shattered rather quickly when the latest feedstock cost increases were announced. As a result, the pressure on regrinders' margins is mounting. Should the upcoming Q1 agreements yield a rise in primary notations, numerous rPA 6.6 suppliers intend to follow suit. With order volumes fairly healthy, buyers will find it very difficult to do anything about this.
rPOM: Unchanged
So far this month, recyclers have stood up to the pressure from converters, who are calling for rebates in line with those they were granted for primary material. This firm stance on the part of regrinders can in part be explained by the fact that not even a fraction of Q4's 5% virgin material cost reduction has filtered down to plastic scrap prices. Most recyclers managed to hold on to a rollover, thereby preventing any further pressure on their margins.

Primary copolymer producers were relatively flexible on prices in Q4, especially when it came to short-term orders for material with an MFI of 9 and 13. As the upheaval on the primary market continued to reverberate, negotiations for longer-running order agreements were postponed from December to January. As a result, purchases made at the beginning of the year continued to be dominated by the high price of direct orders, and margins remained very thin.

Supply was balanced to good. Recyclers were well-prepared for the sudden surge in demand at the beginning of the year and were able to meet customers' orders for basic standard POM recyclate with little or no delay in the first half of the month. The weak euro significantly dampened the previously lively influx of imports.

Demand was normal. Amid the bank holidays and due to the fact that many orders were re-scheduled for January so as to achieve optimum end-of-year inventories, rPOM orders declined significantly in December. Naturally, customers' orders were all the more urgent in the first half of January.

Heading into February, the copolymer primary material situation has turned again. Delivery times are lengthening, and with the euro still weak, import alternatives are few and far between. Recyclers are becoming increasingly nervous about the delay in price talks for longer-running direct orders, not least because the livelier ordering activity is raising the risk of further virgin polymer price hikes. They fear that the latest developments will soon impact their base polymer purchases. The logical consequence will be for them to pass on the extra costs, which is why rPOM notations are likely to rise in the near future.
rPC: Unchanged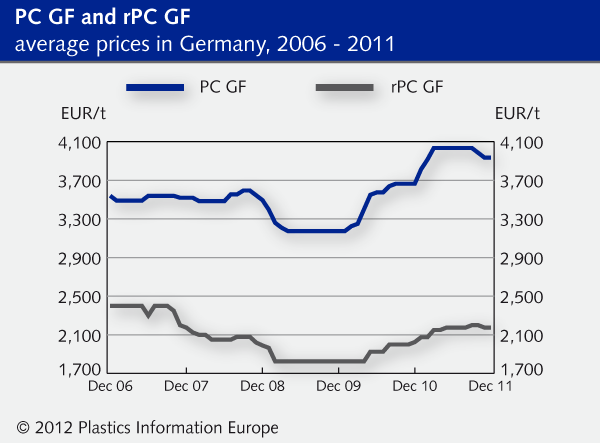 Recyclers' margins became stuck between a rock and a hard place in Q4 as converters insisted on price cuts similar to those granted for the primary material, while recyclers had to contend with unchanged production scrap prices. When the price of additives continued to rise, regrinders refused to accept anything less than a rollover.

Following months of steady decline, primary market prices rebounded at the beginning of 2012 when the benzene notation leapt by EUR 192/t, jumping back to its pre-summer high. Right on its tail, the price of key PC component phenol saw a similar rise, and the other important feedstock, bisphenol A, is destined to follow suit. Most of the negotiations on longer-running order agreements that had been scheduled for Q4 were postponed until the second half of January as producers hope that improved demand will help them pull the carpet out from under the feet of converters calling for price cuts. In fact, in view of the renewed rise in the cost of additives it now looks as if the talks will focus on price increases instead – at least for higher specified virgin material. Rising primary market prices will inevitably result in higher production scrap prices, a development that would hit recyclers hard. Regrinders fear that any rise in their purchasing costs will deplete their margins before they are even able to factor the higher costs in to their rPC notations.

Supply was balanced to good. Demand for finished rPC rose quickly as the new year got under way. As expected, base polymer was more readily available due to the sluggish business at the end of 2011. Even though recyclers frequently had to discard impure material, especially when producing more highly specified rPC materials, they had little problem supplying their customers on time.

Demand was normal. Ordering activity slowed down considerably at the end of last year as companies reduced stocks to a minimum ahead of the end-of-year accounting. As soon as business got going again in the new year, orders quickly picked up again – especially for the automotive segment.

Looking towards February, recyclate suppliers say they will have to add on the extra additive costs to their notations for finished rPC. They will do so in February at the latest. If, as feared, the upcoming Q1 negotiations for primary material result in yet another rise in their purchasing costs, recyclers intend to launch a far-reaching campaign to lift prices. Such endeavours could receive support by primary producers' measures to trim output. It is therefore highly likely that rPC notations will rise during the course of Q1.
rPC / ABS: Unchanged
Although recyclers still had to pay high prices for their plastic scrap in January, they were successful in rejecting converters' calls for price cuts resembling those on the primary market. Orders were consequently billed at December's prices.

The cost mix for primary PC / ABS changed dramatically in January. With a rise of around 30%, the key aromatic benzene significantly pushed up the cost of the basic PC components, phenol and bisphenol A. In the case of ABS, the rise of more than 10% in the styrene contract reference price prompted primary producers to announce hikes of up to EUR 120/t. To add more weight to their campaign, producers also set about limiting supply by cutting back output. Recyclers naturally fear that they will be confronted by additional cost increases within a few weeks.

Supply was balanced to good. Suppliers had no problem coping with the relatively rapid increase in demand, at least where standard rPC / ABS grades were concerned. Buyers of more highly specified PC / ABS recyclate had to wait considerably longer.

Demand was normal. Although the holiday period extended into January in many places, orders for rPC / ABS began arriving relatively early in the month. The automotive segment accounted for the lion's share of the business.

With a view to the future, recyclate suppliers are still unable to agree on a joint strategy. "For now we will keep a close watch on the primary market," one of them told PIE, but admitted that an increase in primary material prices was virtually inevitable. "This means the cost of plastic scrap is also bound to rise." The upward trend is reinforced by the mounting cost of additives. The only remaining question is the size of the future increase, which could vary considerably depending on both current price level and producer.
rPP-copo compounds: Unchanged
With prices – both for standard virgin material as well as compounds – firmer in the first third of the month, recyclers carried over December's rPP-copo compound notations into January.
On the primary market, propylene (C3), the starting material for the production of standard PP, rose by EUR 20/t in the first month of the new year and now stands at EUR 1,015/t. Following this turnaround in the monomer price, producers endeavoured to prop up their thin margins by announcing increases of up to EUR 100/t. While these calls marked the end to the long downward trend, in the first few days of January, primary standard PP notations responded with increases equivalent to the rise in monomer costs, meaning recyclers will be confronted by rising costs.
Supply was balanced to good. With sufficient amounts of production scrap available, recyclate suppliers were able to meet the rise in demand relatively quickly.
Demand was normal. Suppliers to the automotive industry, who took only a small break between Christmas and New Year, were the first to call off new material in January.
Heading into February, recyclers fear that the temporary end to the downward slide in primary prices could quickly turn into a steep rise. Initial signs of feedstocks traded on the spot market certainly point to significant cost increases for standard PP. Regrinders stress the fact that primary compounds tied to the C3 formula would subsequently also move to a higher price window. Needless to say, mounting plastic scrap costs would also result in price hikes for the regrind material. In view of the reports from the petrochemical sector, there is probably not much anyone will be able to do about it.
Prices Engineering Recyclate (EUR/t)
Polymer types
January 2012
December 2011
rABS
Ind black
1,400
-
1,650
1,400
-
1,650
rPA 6
Natural
2,600
-
3,000
2,600
-
3,000
Black
2,300
-
2,500
2,300
-
2,500
GF natural
2,550
-
2,900
2,550
-
2,900
GF black
2,200
-
2,500
2,200
-
2,500
rPA 6.6
Natural
2,700
-
3,100
2,700
-
3,100
Black
2,200
-
2,500
2,200
-
2,500
GF natural
2,600
-
3,100
2,600
-
3,100
GF black
2,150
-
2,500
2,150
-
2,500
rPOM
Natural
1,700
-
1,950
1,700
-
1,950
Black
1,500
-
1,750
1,500
-
1,750
rPC
Natural
2,350
-
2,550
2,350
-
2,550
Black
1,800
-
2,200
1,800
-
2,200
GF
2,000
-
2,350
2,000
-
2,350
rPC / ABS
PC / ABS blends
2,150
-
2,450
2,150
-
2,450
rPP-C Compounds
Copolymer, talc-filled
1,150
-
1,300
1,150
-
1,300
Prices listed above are reference values for major types and refer to sales volumes in Germany, Austria and Switzerland of between 1-25 t. There are other grades and special types whose price might vary. Data without guarantee. Compiled: 13 January 2012.
More on PIEWeb.com:
Recyclate: Data and Charts
19.01.2012 Plasteurope.com 851 [220903-0]
Published on 19.01.2012
Free samples of PIE's price reports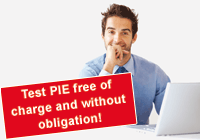 Check out our past polymer coverage completely free of charge:
Want to access more recent price reports?
Sign up for a free trial now on PIEWeb.com...