POLYMER PRICES
Standard recyclate January 2012: Firming primary market ends secondary price slide / Rollover for rPP and weak rollover for rPE / Early gains for PS / Output normal despite building off-season / Increasing risk of hikes
Buyers of secondary standard thermoplastics were having to brace themselves for higher prices in mid-January as a rally on the primary market pulled recyclate notations upward. Up to the end of the year, unbranded and off-spec material continued to exert downward pressure on film recyclate, and notations for transparent as well as extrusion and injection moulding grades slipped by EUR 20/t. With a dip of EUR 10/t, darker colours lost only half as much ground. Translucent rLDPE film rode the coattails of primary polymer upward, with neat scrap seeing gains of EUR 20/t.

In the broader rHDPE portfolio, the better balanced injection moulding grades moved forward by EUR 10/t, but the slack building season dragged blow moulding material down by EUR 30/t. Pipe grade continued moving sideways.

As order activity gained only slight momentum up to mid-January, recyclate producers had no problems meeting demand, despite maintenance turnarounds. Input material was in adequate supply, even if not as long as in December. The automotive market was the driving factor behind the gradual increase in demand, along with export enquiries. As expected, the building sector remained soft.

The escalating dynamics of the primary market on the back of producers' calls for price increases will potentially haunt the secondary sector. Primary polyolefins suppliers had managed only gains in line with their higher costs early in the new year, and these were far short of the triple-digit increases sought. Recyclers of PE and PP will launch their own initiatives, but only in exceptional cases before March. Some PS recyclers will be keen to move soon, however, in view of the price surge for styrene monomer (SM) that is pressuring virgin material. Some are already seeking triple-digit hikes.

On the whole, only gradual price increases can be expected in the secondary standard thermoplastics market over the coming month, although the hikes for PS could be substantial.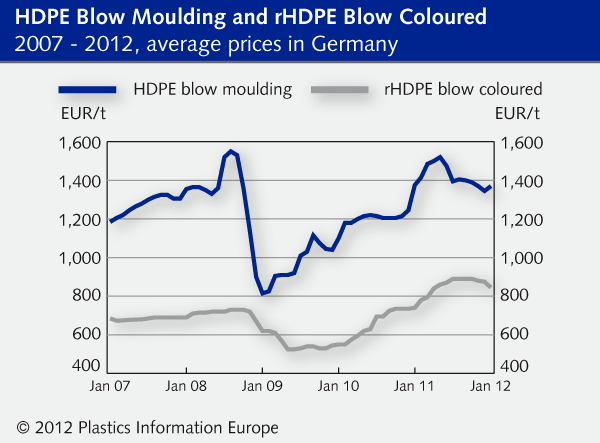 rLDPE: Up EUR 10/t to down EUR 20/t
From mid-December to mid-January, notations for rLDPE film recyclate vacillated between a weak and a strong rollover. Although neat natural rLDPE film scrap was pressured by the unbranded material still in the market in early January, the pressure was weaker, and prices dipped by only EUR 20/t against the last reporting period. In a contrary movement, the upper end of the range for translucent film recyclate spot notations moved forward by as much as EUR 20/t. Suppliers of the building sector in particular had to show more flexibility to make sales of darker rLDPE film or extrusion and injection moulding grades. Concessions here, however, made a dent of only EUR 10/t on the Plasteurope.com range.

After gaining some price relief in Q4 2011, recyclers faced unbending suppliers in the waste sector. They also had to compete with Chinese sources sucking up neat transparent scrap to be processed after their new year break. Input material could be had only at rollover prices.

As the long downslide on the primary market reversed itself, recyclers had to accept that their input costs would be rising soon. The ongoing decline in virgin prices had not really kept pace with the decline on the monomer side, and as the January C2 contract was fixed EUR 40/t higher at EUR 1,120/t, primary producers called for hikes of EUR 120/t. The upward momentum is not yet all that strong, however. Up to mid-January LDPE generally rose in line with the ethylene increase. Lower-priced segments saw more substantial rises where producers' margins were under pressure.

Supply of recyclate in mid-January was long. As not all producers took maintenance breaks over the Christmas holidays, they were able to replenish reserves drawn down during the December boom. Since ordering began only slowly in January, orders could usually be filled on time. Due to the slack offtake in the primary sector in Q4 2011, sufficient input material was available to recyclers, but neat scrap was sometimes harder to find.

Demand was normal to weak. The more transparent rLDPE grades were the most sought-after. Sales of natural film grades were more sluggish as converters had good access to unbranded material. With building activity in hibernation, demand was weak for extrusion and injection moulding grades.

In February, recyclers of LDPE film will be carefully watching the negotations for virgin material. The extent of the expected rise there will determine how much they must raise their own prices. One player told Plasteurope.com that a moderate hike was in store, independent of movements on the virgin side. First moves would be for lighter material. All recyclers will have to deal with higher input costs this month, so that in March at the latest, rLDPE buyers will see announcements of across-the-board increases. Some lower-priced segments could be pulled up as early as February.
rHDPE: Up EUR 10/t to down EUR 30/t
Prices for blow moulding grades pressured
by the weak building demand lost EUR 30/t and showed the worst performance in the rHDPE segment. Recyclers were looking for hikes of EUR 15/t for pipe grade but for the most part achieved merely a rollover. Both primary and secondary injection moulding grades were tight, and at the lower end of the Plasteurope.com range, recyclers' disciplined approach pushed notations upward by EUR 20/t.

Due to developments in the primary market, where the EUR 40/t rise in the ethylene price to EUR 1,120/t effectively ended the long downturn in HDPE notations, buyers of secondary rHDPE will soon feel the pain, too. Virgin polymer producers have called for price hikes of EUR 120/t to stem the bleeding of their margins. Up to now, they have achieved only rises in line with the monomer increase.

Supply of HDPE recyclate was long in mid-January. Many producers did not take holiday maintenance breaks and could easily supply base material without delay. Many are still producing at below capacity, and some producers are transferring a third of their output to reserves. Demand was normal in mid-January, although suppliers of the building industry saw slack ordering as expected.

In anticipation of a turnaround on the virgin side, recyclers have called for price increases of EUR 20/t in February. The slackness of the building industry is not pushing this market segment into hibernation, however. One supplier at least was able to point to firm export orders. If the upswing on the primary market continues and mild weather allows an earlier start to the building season this year, buyers of rHDPE are likely to find their shopping excursions more expensive.
rPP: Prices unchanged
After the rapid rise to the bottom at the end of 2011 for both virgin and recycled PP, there was not much upward pressure from the virgin side in early January. Suppliers of rPP used the welcome relief and sold off stocks at no less than a rollover. While input costs eased in December, recyclers were unable to gain any price advantage in the new year, and had to get by without the hoped-for margin relief.

The primary market has completely turned around since December, and in mid-January there was little oversupply pressure. This means that the second half of the month could see virgin polymer prices rise by more than the EUR 20/t hike in propylene (C3) prices. Here, producers are seeking increases of up to EUR 100/t to relieve their squeezed margins. Petrochemical markets reacting to surging oil prices could lead to even more substantial rises here. China's easier access to credit is leading to more export enquiries and at the same time the weak euro is keeping imports out of the European market. The ball is now clearly in virgin PP makers' court.

Supply was balanced to long. Recyclers who had industrial orders did not close for maintenance over the holidays, which went at least some way toward compensating for the absence of impulses from the building sector. This guaranteed that there was sufficient material in the market, even if it was not all neat material. Input material was not as easy to come by in January as it had been in December.

Demand was normal, driven by the automotive industry. The building and agricultural sectors had not yet emerged from hibernation.

While some recyclate producers had not yet decided whether to pursue price increases in February, one who had more neat material said it would try to recoup the price concessions made in Q4, probably with effect from 1 March. Recyclers speculating on a continued mild winter continued to run their plants flat out. The general opinion was that this would not lead to an rPP glut. "As virgin polymer prices go up we will have no problems selling our additional output," one player commented. As recyclers have no further scope for improving margins, they can be expected to press forward with price hike announcements in February.
rPS: Up EUR 20/t
Some producers of rPS quickly revised their price targets upward as soon as word of the spectacular price reversal in the primary sector spread. Due to developments upstream, virgin PS tended upward by EUR 120/t in the first 10 days of January. The new situation did not immediately result in an across-the-board string of announcements for rPP, but some producers, citing unremittingly high input costs, reeled in their December concessions, tacking EUR 20/t back onto the price.
The rising petrochemical feedstock prices have begun rolling down the styrenics chain. The EUR 192/t increase in the January benzene contract was even bigger than expected, pushing up the SM contract reference price by EUR 120/t. Virgin PS producers immediately responded with calls for hikes of up to EUR 145/t. The earlier nosedive in butadiene prices bottomed out – at least temporarily – in December, and prices bounced up again slightly by EUR 50/t in January. This appeared to have no significance for calculating the premium for the high-impact grades, which was still pegged at EUR 120/t.
Supply of rPS was balanced to long. Demand for HIPS was rather sluggish at the beginning of 2012. No producer was seen to be idling plants, but some were cutting output. No significant supply delays were reported.
Demand was normal. No one expected a surge of orders early in the new year, and none was forthcoming. Most regular customers in the clothing sector had stocked up in December.
PS recyclers who plan price hikes in February are angry. "We did not benefit from the price declines in the primary sector at all," one complained to PIE. "All that happened was that we had to grant concessions to our own customers, and these have eaten away at the substance." Some feared that the worst was yet to come, when the higher virgin notations lead to soaring procurement costs. Others took a more positive stance, pointing to rising demand, in particular from export markets. On the whole, it seems that rPS producers will have to go on a price offensive sooner or later. The risk of higher recyclate prices is extremely high.
Prices Standard Recyclate (EUR/t)
Polymer types
January 2012
December 2011
rLDPE
Film natural
1,000
-
1,050
1,020
-
1,070
Film translucent
910
-
990
910
-
970
Film lightly coloured
830
-
880
850
-
880
Film dark
760
-
790
770
-
800
Extrusion black
690
-
740
700
-
760
Injection black
650
-
680
660
-
690
rHDPE
Pipe 930 black
870
-
920
870
-
920
Blow coloured
810
-
880
840
-
910
Injection black
910
-
990
890
-
990
rPP
Homo black
860
-
910
860
-
910
Copo black
900
-
950
900
-
950
rPS
HI black
870
-
940
850
-
920
Prices listed above are reference values for major types and refer to sales volumes in Germany, Austria and Switzerland of between 1-25 t. There are other grades and special types whose price might vary. Data without guarantee. Compiled: 13 January 2012.
More on PIEWeb.com:
Recyclate: Data and Charts
18.01.2012 Plasteurope.com 851 [220902-0]
Published on 18.01.2012
Free samples of PIE's price reports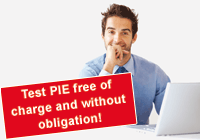 Check out our past polymer coverage completely free of charge:
Want to access more recent price reports?
Sign up for a free trial now on PIEWeb.com...