POLYMER PRICES
Composites/GRP January 2011: Steep hikes for ortho resins and glass fibre / Standard chopped strand mats the only exception / Demand curve pointing upward / February looks likely to be quieter
The breather from price hikes seen in December 2010 ended as the new year began. As demand continued lively, converters were confronted with announcements of price increases both for medium reactive ortho resins and most glass fibre products. The impulse for the resins rise was the price surge upstream. Styrene monomer (SM), for example, saw double-digit increases. On a more positive note, there were no reports of delivery delays or customers on allocation as in the recent past.
European converters stand to profit from the EU's reduction of anti-dumping duties for Chinese-made glass fibre from 43% to 13% – see Plasteurope.com of
28.01.2011
. Good news also was the restart of the
3B
plant at Birkeland / Norway, even if at press time the company had not yet lifted force majeure. The commercial vehicle industry is revving its engines and is climbing up close to POV assembly figures, while at the same time there is additional demand for sheet, seals and profiles for generators.
The building sector was not exactly booming in January, as the season is not due to start for another four weeks or so, but the milder weather compared with December brightened the overall picture. During February, resins producers will focus on pushing through previously announced plans for price increases, and there are not likely to be any more announcements this month. Starting in March, the picture could change. Some converters are already bracing for higher prices, as contracts for the key aromatics were fixed slightly higher than in January. Generally speaking, a relaxation on the feedstock front does not seem to be on the agenda before March.
Ortho resins
Change January against December: Up EUR 60/t
After wintry weather in December thwarted plans to lift prices, by January producers were ready to make their move. Even if some – mostly large – orders were filled at the earlier price, most converters could not escape the upward price spiral. The result was a widening of the range with increases at the top end.

Supply: Despite or perhaps because of the higher prices, all resins grades were available. Whether the order was for standard or speciality, there were no reports of delivery delays or difficulties obtaining material.

Demand: Normal to good, in line with the season. Some refilling was evident at the beginning of the month, especially for industrial applications. Slacker orders from the building sector reflected the off-season and especially the wintry weather. At the end of February activity here is likely to liven up. The commercial vehicle sector has left all seasonal fluctuations behind it. In January, it continued its long, steep climb out of the economic doldrums that began in mid-2010. At least for the next two months, order books are full.

Outlook for February: Producers have enough reasons to keep pressing for higher prices. The February contract for propylene, the feedstock for monopropylene glycol, took a breather from its upward climb, gaining "only" EUR 35/, but styrene went through the roof, adding an average of EUR 96/t in the three crucial contracts. The EUR 122/t rise in the benzene price was only slightly smaller than the January increase, but set the stage for further styrene movements. Contract notations for maleic acid anhydride added EUR 80/t. If individual resins producers do not break ranks – to gain market share, for example – buyers will undoubtedly have to pay more for their material.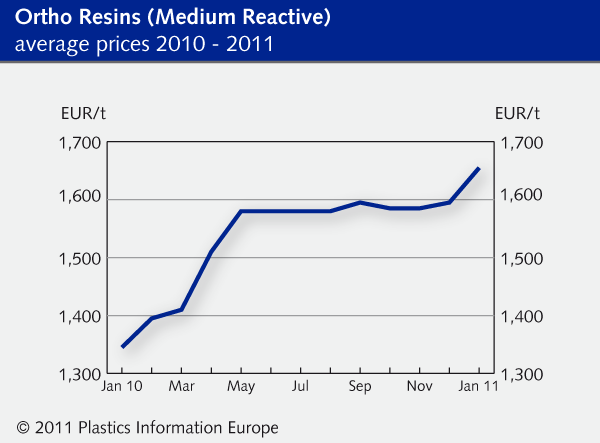 Chopped strand mats
Change January against December: Unchanged to up EUR 55/t
Higher grade chopped strand mats saw substantial increases of more than 5% in January, while lower performance standard mats were stuck in a rollover. One reason for this development may be the prospect of cheaper Chinese imports as the EU reduces its anti-dumping duties to 13% from 43%. The tendency is still to buy from European sources, although converters who pay higher prices are more selective about the quality of the products they order.

Supply: Balanced to good. All products were sufficiently long and available in good time; there were no delivery problems. Out-of-turn orders also could be easily filled.

Demand: Normal. Many markets that had been seeing slack activity showed first signs of reviving. Building applications were an exception. Orders from manufacturers of commercial and recreational vehicles picked up noticeably.

Outlook for February: The annual and semi-annual price rounds for chopped strand mats are over, for the most part, and there is not likely to be any significant activity going forward.
Direct rovings
Change January against December: Up 75 EUR/t
The expected increases for direct rovings did indeed materialise in January, averaging 5-10%. Some grades even saw rises of more than 10%. Sharper hikes were registered for chopped short glass fibres, which are not yet covered by this report. Notations here went as high as EUR 1.35/kg, depending on the grade and the size of the order.
Supply: Balanced. All products were in sufficient supply, and it was not difficult to obtain additional material, even at short notice. There were no delivery delays. As in past weeks, supplies of glass fibre were rather tight.
Demand: Normal. Business with the important building sector remained stuck in winter mode, due to the cold weather. Within the next four weeks, interest here should begin to pick up noticeably.
Outlook for February: As price negotiations were mostly wrapped up at the beginning of the year, producers are not likely to launch any initiatives this month. Anyway, there appear to be no impulses to do so. When the 3B plant at Birkeland is running smoothly again, there shuold be no supply issues remaining.
Prices Composites in EUR/t
Components
January 2011
December 2010
Unsaturated Polyester Resins
Ortho Resins (medium reactive)
1,580
-
1,730
1,530
-
1,660
Chopped Strand Mats
standard (≥30)
1,670
-
1,750
1,670
-
1,750
Sheets / Automotive (<30)
1,850
-
2,260
1,800
-
2,200
Direkt Rovings
standard (≥2.400 tex)
1,200
-
1,350
1,130
-
1,270
Prices listed above were obtained by Plasteurope.com in consultation with plastics converters, producers, distributors and other merchants. Data without guarantee. Compiled: 02 February 2011.
The research on composite prices is conducted in cooperation with AVK - the German
Federation of Reinforced Plastics, Frankfurt / Germany –
http://www.avk-tv.de/
04.02.2011 Plasteurope.com 828 [218080-0]
Published on 04.02.2011

German version of this article...
Free samples of PIE's price reports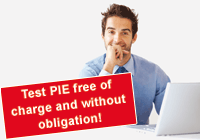 Check out our past polymer coverage completely free of charge:
Want to access more recent price reports?
Sign up for a free trial now on PIEWeb.com...