POLYMER PRICES
Engineering recyclate January 2011: Momentum from primary market drives range upward / rABS and rPOM tight / Fresh FM limits rPA / Pipeline refilling and price surge for virgin polymer fuel demand
The price surge for most engineering plastics did not affect the recyclate market broadly from mid-December to mid-January, as most large contracts were settled earlier in December at the old prices. Most notations for engineering recyclate remained stable, but recyclers used the higher virgin prices as a calculation basis for their short-term orders. The upper range of rABS and some grades of rPA and rPC gained as much as EUR 100/t.

Tight production scrap from converters was having a negative effect on output of recycled ABS, PA, POM and PP. Pipeline refilling at the beginning of the year also limited supply as did competition from converters seeking a respite from the high prices in the primary market. All this combined to delay deliveries.

In many automotive plants the assembly lines were kept running during December, except on the major public holidays. To keep up with orders from OEM suppliers, polymer recyclers had to re-start their own plants fairly soon. Early in the new year, demand from the E&E sector picked up again.

From the early days of 2011, recyclate producers were confronted with procurement price increases that they found difficult to pass on in full. Due to the hits margins for most engineering recyclate have taken in the recent past, producers in the secondary segment have told Plasteurope.com they will try to lift their selling prices during Q1.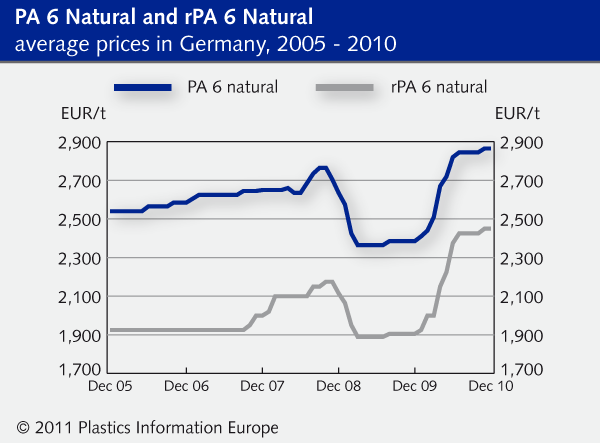 rABS: Up EUR 50/t
When the January contracts for styrene monomer (SM), the weightiest component of the ABS cost mix, were fixed an average of EUR 126/t higher against December, even the most conciliatory of the large recyclate producers sounded the alarm, calling for increases of EUR 140/t. As procurement costs for converters' scrap shot up in weekly increments, recyclers frantically tried to stem the bleeding of their margins with hikes of their own. If not in previously agreed deliveries, they were successful in pushing prices forward in short-term orders for highly specialised products.

Supply was balanced from mid-December to mid-January. The significant upswing in prices for virgin material led to booming demand for rABS. For more than a year, the market for Asian imports has been dry, and most buyers have had to depend solely on European production. So far in January, demand for some products could not be met, as parallel to the shrinking virgin polymer segment, production scrap has become hard to come by. Reserves of recycled ABS are currently scant, and delivery times have lengthened noticeably.

On the back of good demand, prices for primary product have soared since the beginning of the year, while at the same time imports have remained at bay. This explosive mixture has touched off a run on recyclate. Only regular customers are assured of supply, and these are not always receiving the full order.

From December to January, the market's mood turned from quiet to hectic as styrene surged. In the meantime, the spot market has shaved some of the tip off the SM notations, and the top price in the second week of the month was 2% below the first week. At the same time, the rise of EUR 123/t in January's contract for acrylonitrile (ACN), which accounts for around 25% of the ABS cost mix, dashed hopes that the calming of the primary market would be echoed in the secondary sector. Going into February, procurement prices for converters' scrap will take another sharp leap forward. This means that primary polymer producers will make life hard for converters by reusing their own production scrap, and the availability of ABS recyclate will be diminished. A broad rise in prices across the board next month is highly likely.
rPA 6: Unchanged to up EUR 50/t
Notations for PA production scrap have risen by 5% in January, as one recycler remarked. Others have told Plasteurope.com that additives such as pigments, flame retardants and glass fibre have soared in price as well. A large number of recyclate producers filled December orders for January delivery at last month's prices. Hardly anyone anticipated this price development in the wake of primary PA producers' earlier calls for hikes of EUR 250/t. Some suppliers were able to hastily recalculate new orders that trickled in from medium-sized converters in January, as a rule asking for increases ranging up to EUR 100/t.

Supply was balanced. Orders in advance of rising prices and the usual refilling effect seen at the beginning of a new year propelled demand in January. Operation of production plants became dependent on producers sourcing the ever scarcer base material. Many producers of resins from fibre recyclate conducted maintenance over the holidays, but had their plants up and running again on 3 January. Fibre scrap is in the meantime so short that producers of industrial grade rPA can operate their plants only to about 70%.

Demand for rPA in January was good, as most converters had wound down inventories at the end of 2010 and had to refill in the early days of 2011. German converters heated up competition for the hard-to-come-by volumes.

Hikes announced by primary producers at the end of last year are gradually going through, increasing costs for recyclers. Those who have sufficient material are operating at full capacity, but only current output can be drawn on as there are no reserves in the market. Recyclate sellers have their regular customers on allocation, and only those willing to pay more will be supplied.
rPA 6.6: Unchanged to up EUR 50/t
Procurement prices for virgin PA 6.6 scrap have risen 10% since the beginning of the year, hardly surprising as producers in the primary market all announced hikes of up to EUR 250/t in the final quarter of 2010. Announcements cited cost rises for flame retardants, glass fibre and pigments. A force majeure (FM) declared by a primary producer was another factor. Almost automatically, events on the virgin side spilled over into the secondary market and pushed notations for converters' scrap upward. Recyclers were able solely to factor their significantly higher costs into higher prices for natural grades, reinforced or unreinforced, with hikes averaging EUR 100/t.

Supply in January was balanced. In early December recyclate suppliers were delighted that access to scrap appeared to be normalising, but then the fresh FM declared by Rhodia reared up to spoil the holiday spirit. The renewed bottleneck for virgin polymer led rPA 6.6 scrap to tighten again. In the early weeks of the new year, recyclers' output depended on access to base material. Many could not deliver on time.

Demand was good, and in view of the bottleneck in the primary market most regular buyers tried to get their hands on more material, but due to a lack of reserves their suppliers in most cases were not able to deliver. Irregular buyers were left standing in the cold. Automotive and E&E customers were the most likely to get their hands on high temperature material.

"The consistently rising costs are eating away the last few crumbs of our margins," one recyclate producer lamented in January. Major players insisted that costs would be passed through. As a result of the latest FM, the market is short by about a month's production volume of PA 6.6 virgin polymer, and this, recyclers fear, will tighten waste streams and limit processed recyclate. This, in turn, will increase the risk of price hikes in February.
rPOM: Unchanged
Producers of virgin copolymer held back with announcements of increases at the beginning of 2011, despite the tight market. Even if prices of production scrap pointed upward, recyclate changed hands in January at December prices.

Supply was balanced. Recyclers fear that rPOM could be the next engineering polymer to see tightness. Output has been dwindling ahead of a major primary producer's relocation, planned for February. As a result, there has been less scrap at converters. As before, deliveries of recycled polymer lagged.

Demand was good. Due to the tightness created by a major primary producer retooling, more and more POM converters were searching for recyclate. Only regular customers in the automotive and consumer goods sectors could be assured of supply.

Without clear signals from the primary sector in mid-January, recyclers were unsure how to deal with the persistent cost increases. At the end of 2010, a primary copolymer producer signalled unofficially but unmistakeably that prices would rise in the first quarter of 2011. Recyclers feel they are in a bind. Prices for scrap are continuously rising, but no clear signals are coming from the primary sector as to what direction the market will take. In view of this uncertainty, producers of rPOM will be certain to try to move their own prices upward, in some cases significantly.
rPC: Unchanged to up EUR 50/t
As 2010 ended, producers of primary polymer outdid themselves in announcing price increases in the range of EUR 260-300/t. In the first third of January, these producers and their customers were still haggling over the extent of the hikes without a consensus in sight. This meant that procurement prices for converters' scrap remained stable. Even the expensive and highly sought-after scrap from primary producers did not cost more than in December. Nevertheless, producers of reinforced secondary polymers passed on the rises of up to EUR 100/t in additives prices.

Supply was balanced in January, but was still insufficient to satisfy demand, even if the market for production scrap eased somewhat as a large primary PC producer increased output. Therefore, recyclate deliveries were not always on schedule.

Demand was normal, if uneven. In the first week of January, orders were slack, but in the second week, the momentum increased notably.

The turbulence surrounding long-term contracts in the primary market will reach the secondary sector soon, as one rPC player remarked to PIE. Others forecast that higher prices for additives will continue to influence the cost mix for some time. All players have expressed concern about rising procurement costs for transparent scrap in February, depending on the size of the increase in the virgin segment. And all have told Plasteurope.com that they plan to pass on the higher costs in their entirety.
rPC / ABS blends: Unchanged
The surge in the contract price for SM in January drove the cost mix for ABS substantially higher. Producers of primary ABS reacted at the beginning of the month with announcements of price increases of up to EUR 120/t. Already in December, primary PC producers had called for hikes ranging up to EUR 300/t. The direction of the ABS component was clearly upward at the beginning of the new year, driving procurement prices for recyclers higher. But as PC showed no clear direction, prices for blends remained stable.

Thanks to quiet trading in the short month of December, supply of blends was in balance going into January. Subsequently, however, the pipeline refilling effect turned the market on its head. Access to ABS scrap was especially limited, so that rPC / ABS blends could not always be delivered on time.

Demand continued good, especially as automotive producers shut down for shorter periods during the holidays. This brought some relief to suppliers in the short term, but in the first days of trading in January, OEMs recommenced ordering at the same robust pace as in December.

Developments in the primary market are causing rPC / ABS producers some headaches. Up to mid-January there had been no announcements of higher prices. But the persistent erosion of margins due to sharply rising procurement prices in the recent past was putting dents in budgets. The consensus of recyclate producers' comments to Plasteurope.com in mid-January seems to be that individual price initiatives can be expected, targeted especially at the bottom end of the range.
rPP-Copo compounds: Unchanged
As 2011 kicked off, most PP producers surprised purchasers of primary polymer with price hikes of up to EUR 120/t, reflecting the steep rise of EUR 110/t in January's propylene contract. This prompted producers of rPP compounds to try to push their own prices forward. At the bottom of the Plasteurope.com range, notations moved up toward the middle, although this did not influence price levels generally.
At the beginning of the month, supply of converters' scrap was in balance, reflecting the quiet December, but the subsequent run on rPP compounds in the ensuing days swept the market completely clean.
Demand was normal to good, thanks especially to brisk orders from the automotive sector.
Recyclers are concerned about the availability of their starting material as February nears. In the primary market, the force majeure for PP at
Total
in France was taking its toll on other producers, or so the increasing number of FMs seemed to suggest.
Sabic
has been experiencing problems with its PP production at Geleen / The Netherlands, and
LyondellBasell
's Carrington / UK plant appeared to be off line more than it was on in the second half of 2010. Producers of rPP compounds are watching the market carefully. Any higher procurement costs will be passed on during the first quarter, they say. This means that the risk of hikes in February is considerable.
Prices engineering recyclate (EUR/t)
Polymer types
January 2011
December 2010
rABS
Ind black
1,400
-
1,650
1,400
-
1,550
rPA 6
natural
2,350
-
2,650
2,350
-
2,550
black
2,100
-
2,330
2,100
-
2,330
GF natural
2,300
-
2,650
2,300
-
2,550
GF black
2,050
-
2,350
2,050
-
2,250
rPA 6.6
natural
2,650
-
3,000
2,650
-
2,900
black
2,200
-
2,350
2,200
-
2,350
GF natural
2,650
-
2,950
2,650
-
2,850
GF black
2,150
-
2,500
2,150
-
2,500
rPOM
natural
1,750
-
1,850
1,750
-
1,850
black
1,550
-
1,700
1,550
-
1,700
rPC
natural
2,500
-
2,650
2,500
-
2,650
black
1,850
-
2,200
1,850
-
2,150
GF
1,900
-
2,250
1,900
-
2,150
rPC / ABS
PC / ABS blends
2,100
-
2,300
2,100
-
2,300
rPP-C Compounds
copolymer, talc-filled
1,100
-
1,300
1,100
-
1,300
Prices listed above are reference values for major types and refer to sales volumes in Germany, Austria and Switzerland of between 1-25 t. There are other grades and special types whose price might vary. Data without guarantee. Compiled 14 January 2011.
More on PIEWeb.com:
Recyclate: Data and Charts
19.01.2011 Plasteurope.com 827 [217449-0]
Published on 19.01.2011
Free samples of PIE's price reports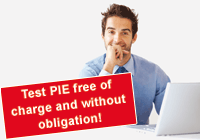 Check out our past polymer coverage completely free of charge:
Want to access more recent price reports?
Sign up for a free trial now on PIEWeb.com...