POLYMER PRICES
PET January 2011: Higher costs are passed down the chain / Brisk Asian demand for polyester fibre continues to pressure European market / No relaxation on the price front in store for February
European PET notations continued to rise in January as the petrochemical cost wave continued to roll and producers successfully passed on in full their higher prices for the PX/MEG feedstock mix. Spot prices also continued to climb throughout the month. Other regions of the world saw similar development. As the import shortage persisted, European supply was balanced without reserves. At the same time, demand was unusually good for the time of year. There seems to be little doubt that PET prices will follow cost movements upward in February, especially in view of the EUR 130/t increase in PX sot prices in January.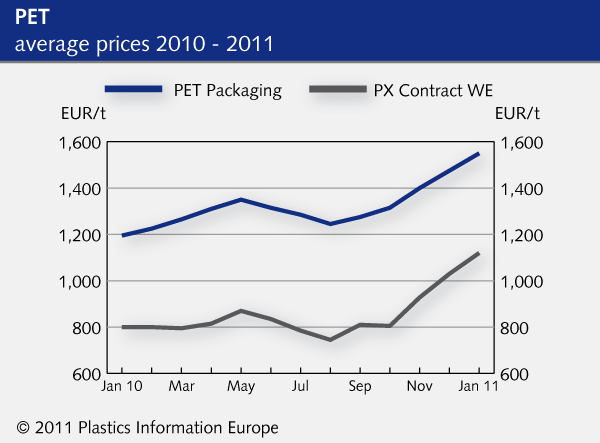 Change January against December: Up EUR 75/t
The PX contract for January was fixed EUR 90/t higher against December, at EUR 1,120/t, and MEG was priced EUR 60/t higher at EUR 1,035/t. The resulting EUR 80/t rise in the cost mix was passed on without further ado. Polymer price increases ranged from EUR 70-100/t, whereby large consumers faced for the most part triple-digit hikes to at least EUR 1,400/t. The middle range saw rises to EUR 1,500-1,600/t. In mid-January, spot prices were sighted at around EUR 1,350/t, but tended higher as the month progressed. Food grade recyclate continued high. Even low performance rPET made considerable strides, with prices for Q1 2011 running about 25% above the comparable 2010 quarter.
Supply: Balanced to tight. As product continued to be redirected to the Asian polyester fibre market, imports remained scarce. European output barely sufficed to meet demand, and there were no reserves.
Demand: Strong for January, as consumer markets order more than usual, possibly reflecting inventory building in advance of expected further price increases. Worldwide developments: US prices for PET rose by the equivalent of around EUR 30-50/t, which was less than the increase in the cost mix and hurt North American producers' margins. The forward surge in PX was propelled by demand in Asia. Here, the across-the-board PET price hikes of EUR 50-100/t reflected a shortage of PTA feedstock. Two developments were significant – the approaching summer beverage season and the poor cotton crop, which has buoyed demand for polyester fibre in recent months.
Outlook: European PX spot prices gained EUR 130/t over the course of January. This means buyers must brace for higher PET prices in February, as producers will push the fresh increases through as rigorously as they passed on the last cost wave. At the same time, observers are beginning to warn that the market may be overheating. In view of the over-the-top PET prices, bottle manufacturers may calculate that switching back to glass is more lucrative – as far as production technology allows this. But as there are no signs that the Asian fibre market will cool down any time soon, PET prices in February undoubtedly will follow feedstock notations upward.
Prices PET (EUR/t)
Region
January 2011
December 2010
Western Europe
1,500
-
1,600
1,420
-
1,530
USA
1,430
-
1,510
1,380
-
1,480
Asia
1,150
-
1,400
1,100
-
1,300
Data without guarantee. Compiled: 24 January 2011
More on PIEWeb.com:
PET: Data & Charts
02.02.2011 Plasteurope.com [216357-0]
Published on 02.02.2011

German version of this article...
Free samples of PIE's price reports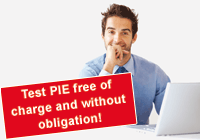 Check out our past polymer coverage completely free of charge:
Want to access more recent price reports?
Sign up for a free trial now on PIEWeb.com...