YANTAI WANHUA
Ethylene delivery from TVK to BorsodChem / Profile of one of China's leading PU players
Since taking over
BorsodChem
(Kazincbarcika / Hungary;
www.borsodchem-group.com
) in 2011 – see Plasteurope.com of
02.02.2011
– there have been occasional reports of
Yantai Wanhua
's (Yantai, Shandong / China;
www.ytpu.com
) strategic movements in Europe. The latest significant development is undoubtedly the signing of a 10-year contract with Hungarian petrochemical group
Tisza Chemical
(TVK, Tiszaujváros;
www.tvk.hu
) for the delivery of 120,000 t/y of ethylene to BorsodChem.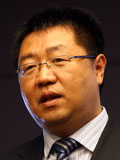 Q. S. Huang (Photo: Wanhua)
But who exactly is this Chinese player and what are its future goals as it turns its gaze to Europe? At the recent ChinaPlas (
www.chinaplasonline.com
), held in April in Shanghai (see Plasteurope.com of
27.04.2012
),
Plasteurope.com
spoke to
Q. S. Huang
, general manager of Wanhua Polyurethanes' Material Science Business unit, about the company's activities in China.
When TPU production first began in the People's Republic in the mid-1990s, Wanhua group member
Hua Da Chemicals
formed a joint venture with
DaiNippon Ink
to produce thermoplastic polyurethanes (TPUs). A small unit, the jv employed relatively rudimentary technology and in essence stagnated amid a rather lacklustre performance. At the same time, Wanhua continued to grow its isocyanates business, notably MDI. Huang told Plasteurope.com that the company currently has a nameplate capacity of 800,000 t/y of MDI in China and plans to ramp up that output to 1.4m t/y by 2013.
In 2002, Wanhua decided to extend the value chain and started up its own TPU production. The decision resulted in the disbanding of its jv in 2003, in the wake of which Wanhua took over all the operating equipment and expanded activities, including through the addition of new state-of-the-art machinery, an independent R&D and marketing team as well as the installation of its own sales and distribution network. In the years that followed, Wanhua kept investing in this TPU chain to ensure both technological and quality standards.
In contrast to Europe, there are more than 50 TPU producers operating more than 100 production lines of varying sizes and structures in China. Today, the total installed TPU capacity in the country is estimated at about 180,000 t/y, with actual production pegged at about 90,000 t/y or roughly 50% capacity utilization. Whereas the larger players are running their lines continually at low capacity utilisation levels, many smaller companies are producing more irregularly, with frequent stoppages. Huang told Plasteurope.com that Wanhua turned out 20,000 t of TPU in 2011, making it China's leading producer.
Since 2005 Wanhua TPU has grown its product portfolio to over 150 brands, covering applications in automotive, film and sheets, compounding, engineering, adhesives as well as medical implements. Looking towards the future, Huang is optimistic that as a result of the rapid growth of the end-use industries in China – including the automotive, engineering and electronics sectors – domestic TPU consumption will increase exponentially, affording his company lots of growth opportunities. At the same time, however, Wanhua is stepping up efforts to enhance its presence and to raise sales in the international marketplace, in particular Europe. Its acquisition of BorsodChem is one of the group's strategic moves in that direction.
20.06.2012 Plasteurope.com [222294-0]
Published on 20.06.2012