UK RECYCLING
Government support to boost investor confidence / Collection methods need to be optimised
Government support is vital to help boost investor confidence in the waste-to-resource sector and develop the infrastructure necessary to meet the UK's revised 57% plastic packaging recycling target by 2017, says waste recovery specialist
Axion Consulting
(Bramhall, Stockport / UK;
www.axionconsulting.co.uk
) and, in particular, its director
Keith Freegard
. He says the UK infrastructure is adapting to deal with the greater mix of plastic types from householders, but adds: "What is needed is a solid and well-thought out growth plan across the whole waste packaging supply chain to maintain this positive momentum." Currently around 90% of rigid plastic packaging in the UK – over 1m t – is not recycled, despite a willingness among householders to assist in its recycling.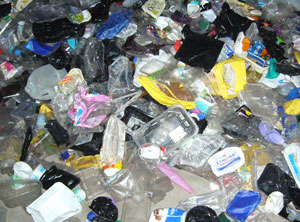 90% of rigid plastic packaging is not recycled in the UK (Photo: Axion)
Freegard asserts that there will need to be careful monitoring and control of the economic drivers to ensure investment in new sorting capacity and reprocessing plants matches the rising volumes from local authority kerbside collections. Axion research has shown that where bottles and other mixed plastic are accepted by local authorities, there is a higher overall capture rate for kerbside separated plastic. However, concerns remain over how to optimise collection methods in order to minimise cross-contamination from other polymers.
The comments from Freegard follow from the publication of a guide on the collection and recycling of rigid plastic packaging published by the
Waste & Resources Action Programme
(WRAP, Banbury / UK;
www.wrap.org.uk
) and produced in association with Axion – see Plasteurope.com of
08.02.2012
. It explains the opportunities and challenges associated with targeting these materials at the kerbside, commonly alongside plastic bottles, and supplies data on how they are handled within materials recovery facilities (MRFs) and plastic recovery facilities (PRFs).
According to WRAP, existing recovery facilities were designed for an input material mix of 40% PET, 40% HDPE and 20% other. However, now that the input proportions are changing to include a greater proportion of non-bottle, rigid plastic packaging, the concentrations of PET and HDPE are being reduced. This is having a knock-on effect on the efficiencies of sorting and reprocessing facilities so that they are unable to maximise the value of packaging streams collected for recycling.
09.08.2012 Plasteurope.com [223019-0]
Published on 09.08.2012