SOUTH AFRICA
1.4 bn PET bottles recycled in 2011 / Most regrind activity in Gauteng province / Local bottle-to-fibre market saturated
While other parts of the world continue to grapple with plastic waste problems, South Africa increasingly is making headway in reusing what others throw away. The country's used PET bottles are no longer exported to China nor do they clog waterways or fill up landfills. Instead, they are recycled into fibre filling for duvets, pillows, fleece jackets, automotive parts, insulation materials, geotextiles and even into food grade packaging – all activities that fall under the "Bottle2Fibre" category. More recently, South Africa also launched its first post-consumer PET bottles, entering the "B2Foodgrade" field.
PETCO
(Johannesburg / South Africa;
www.petco.co.za
), the industry organisation overseeing PET recycling in the country, has set itself the goal of recycling 50% of all beverage PET by 2015. Today, some 85-90% of the post-consumer PET bottles recycled in South Africa come from landfill. The number is slightly lower than that of previous years thanks to the establishment of Material Recovery Facilities (MRFs) at Marianhill in Durban, Athlone in Cape Town and London Road, Gauteng.
In geographical terms, most PET recycling takes place in Gauteng province – home to the capital Johannesburg – which accounts for 55% of the national total. Runner-up is the Western Cape with 13%, KwaZulu Natal with 10%, while the Eastern Cape and Mpumalanga provinces each account for 5% of post-consumer PET. North West province and Free State each stand for 4%, while Limpopo and the Northern Cape form the taillight, with 3% and 1% respectively.
Last year, some 1.4 bn PET bottles were recycled in the country, PETCO data indicate. In addition, the association says it exceeded its 2010 PET plastic recycling rate by 5,290 t. The overall recycling rate for post-consumer beverage PET climbed to 42%, PETCO says, adding that looking at the PET market as a whole, the reuse rate reached 29% last year. Some 42,651 t of PET was collected and recycled last year out of a total PET resin market volume estimated at 145,000 t. In terms of pre-consumer material, a total of 46,276 t was collected and recycled last year, tantamount to 46% of beverage PET and 32% of total PET.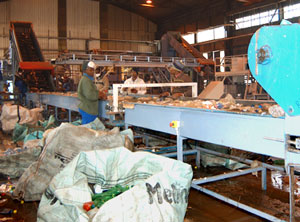 Thanks to companies like Extrupet, South Africa's PET recycling activities continue to thrive (Photo: Extrupet)
PETCO attributes its success to the voluntary financial support from its members, including the payment of a recycling levy, as well as other contributions. Moreover, local PET converters, bottlers and raw materials producers have all helped the organisation reduce the volume of post-consumer PET plastic in the waste stream. Key players in the country's recycling scheme include contracted service providers
Extrupet
(Wadeville, Gauteng;
www.extrupet.com
),
Kaymac
(Pinetown;
www.kaymac.co.za
) and
Sen Li Da
(Johannesburg), which combine collection, recycling and end-use in their PET value chain.
In its 2011 achievement report, PETCO chief executive
Cheri Scholtz
said that, "2012 will certainly prove to be a turning point in our development. This will be the first year that PETCO will be facing a shortage of end-use market applications for recycled PET as the local bottle-to-fibre market has now reached saturation, and local recyclers have reached capacity. This means that as more and more post-consumer PET bottles are collected, so end-use markets need to expand and develop." In 2012, PETCO aims to recycle 48,356 t or 44% of all beverage PET resin locally consumed.
27.07.2012 Plasteurope.com [222899-0]
Published on 27.07.2012