PLASTICS RECYCLING
PAFA: Far East controls threaten plastic waste exports from Europe / UK recycling targets will become unrealistic / Recycling companies in China form new Scrap Plastics Association
Measures being taken by the authorities in China and Malaysia to tighten control of plastics recycling activities could mark the end of the large-scale importation of plastic waste from the UK to these countries and further jeopardise the chance of the UK meeting its newly imposed recycling targets. The new targets have already been criticised as being unrealistic due to the lack of an adequate collection and recycling infrastructure – see Plasteurope.com of
24.09.2012
. Now, according to
Barry Turner
, CEO of the British
Packaging & Films Association
(PAFA, Nottingham;
www.pafa.org.uk
), they are likely to fail even sooner than expected as these regulatory controls in the Far East are implemented.
China's
Ministry of Environmental Protection
,
Ministry of Commerce
and
National Development and Reform Commission
have said that they will consider strictly enforcing regulations that prohibit the import of unwashed, post-consumer plastics as well as banning the transfer of imported waste to a company other than that allowed by the Chinese import licence. It also will not allow Chinese companies to sell unwashed leftover plastic from sorting of imported plastic and paper.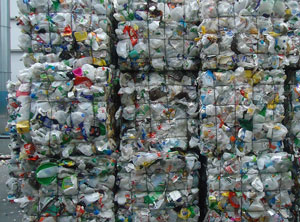 Increasing burden on European plastic scrap exporting companies due to stricter import regulations in China (Photo: ECO Plastics)
"This will require a significant investment in Europe to fill the size of the hole created, which will require time to develop," said Turner, "but such moves would have a huge impact on the waste industry in the UK, especially when it comes to meeting plastic recycling targets set by
DEFRA
(Department for the Environment, Food and Rural Affairs;
www.defra.gov.uk
)."
Currently, according to DEFRA statistics, much of the 67% of the UK's plastic waste that is exported goes to countries in the Far East, particularly China. If, and when, this market starts to disappear then the effect in the UK will be swiftly felt as already it is desperately short of plastic collection and recycling facilities. Commenting further on this eventuality, Turner said: "I believe reaching the (DEFRA recycling) target of 57% by 2017 will be even more unrealistic and out of touch."
Increasing environmental issues in China
An estimated 8.4m t of plastic scrap were imported by China in the period from January to December 2011 (see Plasteurope.com of
11.06.2012
). In the first six months of 2011, at roughly 970,000 t, the EU was the largest net exporter of plastics waste to the People's Republic, the figures released by the
Plastics Recycling Committee
(PRC) of the
China Plastics Processing Industry Association
(CPPIA, Beijing;
www.cppia.com.cn
) indicate – see Plasteurope.com of
08.09.2011
. For the whole year 2011, Hong Kong ranked top single country exporting plastic scrap to China, but already losing ground.
Now the Chinese Government has told plastic recycling companies they must report any imports that are banned or contravene environmental protection rules as it cracks down on the quality of imports, saying that companies must comply with regulations. New policies for both domestic and imported plastic scrap include, from 1 October 2012, not allowing recycling in residential areas and a ban on processing plastic without sufficient water treatment facilities. Also, local environmental protection agencies have been told to inspect plastic recycling companies and publish a list of qualified recyclers, as well as those that fail the inspections. From 1 January 2013, only companies that have qualified will be able to import plastic waste.
Burden of cost and responsibility forced on European manufacturers
This change of attitude to reprocessing Europe's waste in the Far East makes it imperative, argues PAFA, that DEFRA urgently rethinks the burden placed on UK industry in its latest recycling targets. "Last year, DEFRA was advised against this unachievable level of targets by its own advisory committee and now we are witnessing previously unforeseen moves in the Far East which will make them even more unattainable," says Turner. "There is no joined-up thinking on waste and recycling targets and it is clear that the burden of cost and responsibility is being forced on UK manufacturers and retailers at a time they can least afford it."
New Chinese plastic scrap association
Earlier this year, a consortium of more than 50 Chinese plastics recycling companies was established in Beijing with a view to supporting development of the country's plastics industry. The
China Scrap Plastics Association
(CSPA) wants to act as a catalyst for innovation by establishing a communications platform for the industry and the Chinese government. It is determined to resolve issues currently curbing the potential of the scrap plastics industry, and has pledged to invest in initiatives to increase the use of recycled plastics as a less harmful resource than virgin material. On 6-7 November 2012 CSPA is co-organiser of the 8th "China Plastics Recycling Exhibition & Conference" ("ChinaReplas"), taking place in Beijing (see Plasteurope.com of
31.08.2012
).
11.10.2012 Plasteurope.com [223571-0]
Published on 11.10.2012