PLASTICS AND HEALTH
FDA officially seals phase-out of baby products containing BPA / Request by chemistry council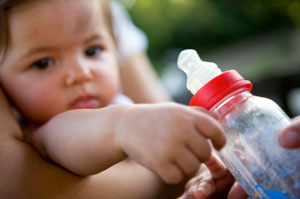 By 16 August all baby bottles and sippy cups manufactured in or imported into the US have to be BPA-free (Photo: webphotographeer/IStockPhoto)
Acting on a request by the country's chemical producers' association,
American Chemistry Council
(ACC, Washington DC / USA;
www.americanchemistry.com
), filed in October 2011, the US
Food and Drug Administration
(FDA) has amended its food additive regulations to stipulate that infant feeding bottles and spill-proof cups can no longer contain the chemical bisphenol A (BPA). Unless objections are filed by 16 August 2012, these products can no longer be manufactured in the US nor can they be imported. The ruling does not apply to any other baby products sold or manufactured in the US that may contain BPA.
The food watchdog's action is somewhat unusual, as the products are no longer in the market, as the ACC confirms. An FDA spokesman stressed that it "does not amount to a reversal of the agency's position." Earlier this year, the FDA – which has been widely criticised by health safety advocates for inaction on the subject – was forced to address the matter again after failing to respond in due time to a call for a ban in 2008 by
Natural Resources Defense Council
(NRDC, New York / USA;
www.nrdc.org
) – see Plasteurope.com of
04.04.2012
. In a nutshell, the agency said only that it had as yet no concrete evidence and that further studies were in progress.
The ACC effort to regulate itself is also somewhat unusual. It is being widely seen as an effort to boost American consumer confidence after a protracted public debate over whether BPA is an endocrine disrupter and therefore harmful to human health –
Plasteurope.com
has reported extensively. Many other national and local governments already have banned the chemical in baby products. Soup maker
Campbell
also has announced a phase-out of epoxy resin can liners containing BPA, but has not confirmed a timetable.
US health advocates said they were happy about the FDA's action but most still contend that BPA poses a risk. In instituting a ban that is already in effect voluntarily, the agency is doing "only the bare minimum," said
Diana Zuckerman
, president of the
National Research Center for Women and Families
.
Sarah Janssen
, a senior scientist at NRDC, called the move "a baby step in the fight to eradicate BPA". The FDA "continues to dodge the bigger questions" of the chemical's safety, she added.
20.07.2012 Plasteurope.com [222888-0]
Published on 20.07.2012