PETROCHEMICAL MARKETS
Follow-up: Isaac downgraded to tropical storm / US government declares some part of Louisiana disaster zones / Oil refining operations about to be restarted / Flooding and electricity problems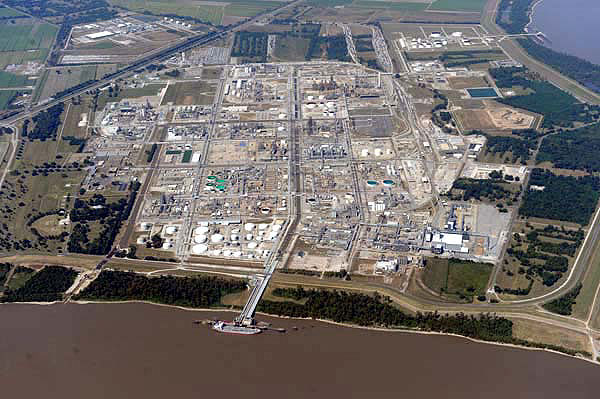 Dow's site in Plaquemine, Louisiana is also located on the banks of the Mississippi (Photo: Dow)
As "Isaac" is slowly making its way towards the interior of Louisiana, the system is steadily losing steam and has been downgraded from hurricane to tropical storm. However, US weather experts say the classification is misleading, adding that there is no such thing as "just" a tropical storm. The main fear has never been Isaac's wind gusts – in this regard, Katrina was much more devastating. Instead, the storm brings with it huge amounts of rain, which already have led to widespread flooding in the Mississippi delta. In response the US government has declared 37 parishes official disaster zones, which means federal troops could find themselves posted here.
It will probably take a few more days before anyone can tell with any certainty what effect Isaac will have on the area spanning New Orleans and upriver up to Baton Rouge, where a lot of refineries and petrochemical operations are found (for most recent coverage, see Plasteurope.com of
29.08.2012
). The massive rainfall of not just the main system but its offshoots as well could easily lead to severe flooding, officials warn. For both logistical and supply reasons, a lot of the area's petrochemical sites are located on the banks of Mississippi, which could put them in harm's way of the rising waters. Reports are also increasing about electricity outages in the area.
By contrast, the petrochemical sites located in west Louisiana at Lake Charles have so far remained largely untouched by the storm. Reports indicate that both
ExxonMobil
and
Shell
are already preparing to restart their oil and gas refining operations in the Gulf of Mexico as well.
Isaac: Potential Effects on US Standard Thermoplastics Production
Capacity (1,000 t/y)
Share (%)
Material
total USA
affected region
of USA total
Ethylene
28,101
5,720
20.4
PE
15,889
3,652
23.0
PVC
7,140
1,130
22.1
Propylene
23,879
4,442
18.6
PP
7,935
742
9.4
Styrene
6,000
2,100
35.0
PS
2,496
660
26.4
Source: Polyglobe
30.08.2012 Plasteurope.com [223264-0]
Published on 30.08.2012