MULTIVAC
Exclusive distributor of DuPont Teijin Films' "Mylar" cook films in EMEA, US
DuPont Teijin Films
(Europe: Luxembourg;
www.dupontteijinfilms.com
) has appointed German thermoforming and packaging specialist
Multivac
(Wolfertschwenden;
www.multivac.com
) as the exclusive sales distributor of its "Mylar" cook films in Europe, America, Oceania, Africa and the Middle East. Under the terms of the agreement, both companies undertook to combine their skills by bringing together thermoforming solutions from Multivac and DuPont's expertise in customised thermoformable and sealant films.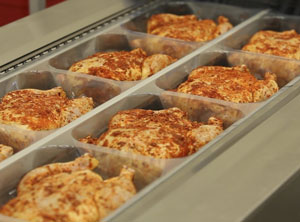 Thanks to its "no-touch concept", cooks do not have to get into contact with the bag's contents, preventing any contamination (Photo: DuPont Teijin Films)
The "Mylar" range of thermoformable films is designed for food preparation applications and can withstand temperatures up to 218 °C. This means the food can be cooked in an oven or microwave in the bag, which will enable the contents to retain its aromas, vitamins, minerals and inherent moisture. A key feature of the films is that their seal seam opens once the right temperature is reached, allowing the food to be browned. DuPont Teijin Films said "Mylar" achieves consistent cooking results through the constant heat transfer during both cooking phases, which it claims saves up to 30% of cooking time, making the films particularly suitable for industrial use where energy savings are greatest.

One of the advantages of "Mylar" cook films is the "no-touch concept", meaning neither cooks nor private consumers have to be in contact with the bag's content – a particular advantage when it comes to cooking raw meat or fish. Aside from reducing clean-up time and water consumption, the self-contained cooking system also has a leak-proof sealing and a high degree of puncture resistance from the film pouch, the companies said.

"Mylar" cook films are usable on Multivac's thermoforming packaging machines. Thanks to short forming and sealing procedures, DuPont Teijin Films said they allow for high cycle output while the wide forming and sealing temperature range of films ensures a simple and reliable process.
21.08.2012 Plasteurope.com [223148-0]
Published on 21.08.2012

German version of this article...