COMPOSITES
European GRP production stagnates / Turkey and Far East reap the benefits of weak southern European market / Automotive industry is key for CFRP advances / Germany's AVK industry association round table during "Composites Europe"
By the end of this year, European glass fibre-reinforced plastics (GRP) production will have reached the same volume as turned out in 2010, according to a new estimate issued by the
German Federation of Reinforced Plastics
(AVK, Frankfurt;
www.avk-tv.de
). "That trend is the result not only of the euro crisis, but also the relocation of the manufacturing of simpler parts from southern Europe to Turkey and elsewhere, including India and the Far East," AVK chairman
Michael Effing
said during the recent "Composites Europe" fair (
www.composites-europe.com
), held from 9-11 October in Düsseldorf / Germany. For the first time in its history, the association has taken a closer look at the composites markets in Turkey as well as nearby countries in the Middle East.
However, the contraction – which AVK managing director
Elmar Witten
describes as a "realistic examination of existing possibilities" – will not affect the production of carbon fibre reinforced plastics (CFRP), output of which is expected to grow by between 13-17% per year, depending on which study one consults.
All in all, interest in the composites sector remains high and the two associated European fairs drew record numbers of both visitors and exhibitors this year. In March 2012, "JEC" (
www.jeccomposites.com
) attracted 1,200 exhibitors and 32,256 (2011: 29,867) visitors to Paris (see Plasteurope.com of
12.04.2012
), while the recent "Composites Europe" fair drew 8,040 (2010: 8,101) visitors as well as 426 (294) exhibitors. More than a third of exhibitors at the latter event were machinery and plant manufacturers, whose portfolio is considered to be crucial to automation and serial manufacturing.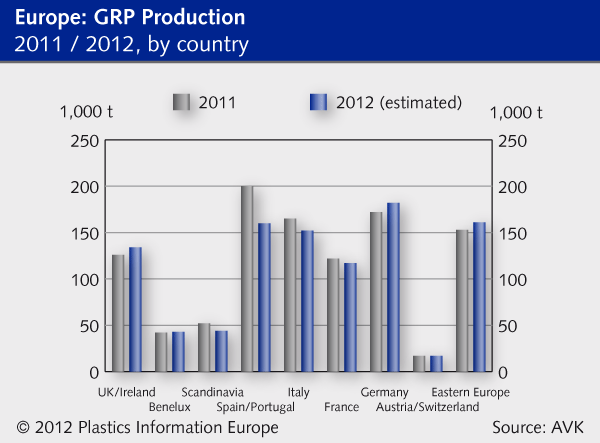 Taking a closer look at the GRP sector, Effing and Witten discern strong regional differences, which are a result of the differing effects of the economic downturn on individual countries. The worst affected is the Iberian Peninsula, where output caved in by 20% to 160,000 t. The Scandinavian countries performed just as poorly. By comparison, Italy's output – down 8% – appears slightly better but also cannot escape the grasp of the crisis. By contrast, the GRP markets in Germany, the UK and Ireland as well as eastern Europe continue to increase. At a market volume of 195,000 t, Turkey's output rose by 8% year-on-year, outpacing that of Germany (up 5.5% at 182,000 t). GRP is mostly used in pipes, tanks and pultruded profiles in the south-east European country.
Another noteworthy development is the relocation of simpler sheet moulded compound (SMC) parts to Turkey, India or China – in the latter case mostly in the form of rotor blades for wind turbine manufacture. "There is a lot of movement in the sector," says
Volker Fritz
, president of the
European Composites Industry Association
(EuCIA, Brussels / Belgium;
www.eucia.org
). European SMC processing dropped by 5%, mostly as a result of a decline in demand from the automotive sector. Most other processing techniques have remained stable, with the exception of sandwich production and parts used for pipes and tanks. Depending on the relevant application, the percentage shares of these processes remained largely unchanged.
China makes its mark
The market for carbon fibre-reinforced plastics is expected to grow by 13-17% per year, according to predictions from
Carbon Composites
(CCeV, Augsburg / Germany;
www.carbon-composites.eu
) and the
German Engineering Federation VDMA
(Frankfurt;
www.kug.vdma.org
).
Hans-Wolfgang Schröder
, who heads the CCeV, expects demand for carbon fibres to continue to rise, with last year's volume of 37,000 t predicted to reach 42,000 t by the end of 2012. By 2014, the CFRP market is predicted to reach 73,000 t, as evinced by the expansion plans announced by larger manufacturers. Although the global market share will change only slightly, a key newcomer will be China, which already commands 8% of the global CFRP market.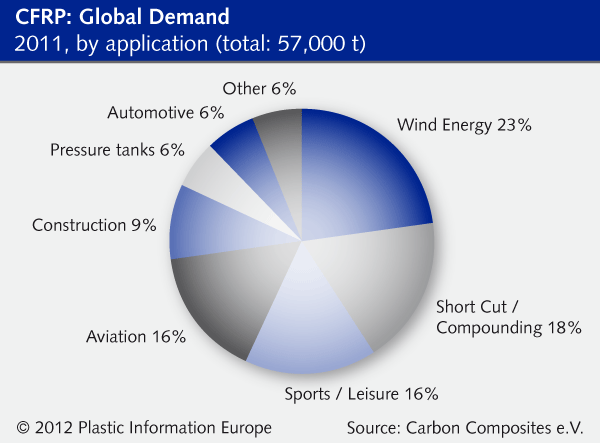 At 23%, rotor blades used for wind turbines account for the largest share of the global CFRP market. Second place, at 16% each, are aviation and astronautics as well as sports and leisure. At a mere 6%, the use of CFRP in the automotive sector still fails to show this particular market's growing importance. However, BMW's entry into the sector, as the German automotive producer endeavours to begin serial CFRP parts production, will see the share of materials used for automotive applications rise exponentially.

In 2010 about 2,000 t of CFRP were used in the automotive sector. According to even the most conservative estimates, that number is expected to rise by 15% per year, and could even end up higher in 2013 if the electric car takes off as is widely hoped. "However, ecologic and economic effects can only be achieved if light-weight production will also filter down to application," says CCeV's Bernhard Jahn. In order for that to happen, the industry needs to launch large serial production chains and implement the associated automation.
CFRP production costs need to decline
One thing is certain: Demand for CFRP parts will only start rising once production costs will start declining, a new study from
Roland Berger Strategy Consultants
and VMDA's Composite Technology forum found.
The cost of fibre composite parts are predicted to drop by about 30% until 2020, while processing costs should decline by 40% and fibre costs by 20%. In comparison to steel, such declines would be a real quantum leap – after all, the costs for a steel part amount to just 15-20% of that of a CFRP equivalent, or the same amount as the carbon fibre precursor alone. What's more, the processing itself only accounts for 5% in the final price of a steel part – in the case of CFRP the process itself accounts for 50% of the costs. There will therefore likely be structural changes to production as well.
Nevertheless, the automotive sector appears to be the industry's main driver. All efforts of
Boeing
and
Airbus
notwithstanding, the aviation sector is unlikely to implement serial production, VDMA's study predicts. The number of parts needed for these applications is simply too small. The use of CFRP in wind rotor blades also is hardly rising, and intimately tied to an increase in wind farms. As a result, most studies pin their hopes on the automotive sector, where serial production of CFRP parts could reach several 10,000 units. However, it should be noted that experts predict this serial manufacture will not be limited to CFRP parts alone but a hybrid material consisting of CFRP and fibres as well as other materials such as metals and short-fibre thermoplastics. Such requirements call for new techniques in sandwiching the materials.
Fair organiser
Reed Exhibitions Deutschland
(Düsseldorf / Germany;
www.reedexpo.de
) has recognised the latter trend and will host the first "Hybrid Expo" (
www.hybrid-expo.com
) from 17-19 September 2013 in Stuttgart / Germany, to run alongside the Composites fair.
GRP Output in Europe (in 1,000 t)
2009
2010
2011
2012*
SMC/BMC
216
267
267
258
Open processes
197
252
258
235
RTM
94
113
120
120
Continuous processes
95
119
128
125
Tanks and pipes
124
148
155
147
GMT/LFT
75
100
105
108
Other
14
16
16
17
Total
815
1,015
1,049
1,010
Source: AVK
* estimated
22.10.2012 Plasteurope.com [223596-0]
Published on 22.10.2012

German version of this article...