CHINAPLAS
Almost 95,000 people visit Guangzhou fairgrounds / Double-digit growth in visitor numbers / Next year's event expected to break new ground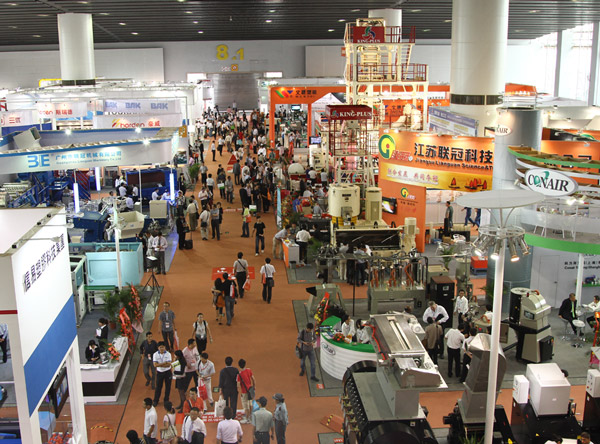 More than 20% of visitors to this year's Chinaplas came from abroad (Photo: Chinaplas)
The 25th "Chinaplas" (
www.chinaplasonline.com
) plastics fair, held from 17 to 20 May 2011 in Guangzhou / China, continues to grow both visitor and exhibitor numbers. Total exhibition space at this year's event reached 180,000 m
2
and more than 2,400 exhibitors from all over the world showcased their products and innovations. Altogether, some 94,084 people flocked to this year's event, a 15% year-on-year rise over the 81,435 visitors who made the journey last year – see Plasteurope.com of
11.05.2010
.
Admittedly, that growth rate is somewhat slower than the 17.5% rise in visitor numbers seen from 2009 to 2010. However, this year the percentage of overseas visitors – some 19,059 of the total – topped the 20% mark, compared to 18% of all visitors that attended last year's event. The figures clearly illustrate the growing importance of the annual fair, which is held alternately in Guangzhou and Shanghai, and of the Chinese plastics market in general (for a more comprehensive report on China's plastics sector, see Plasteurope.com of
17.05.2011
).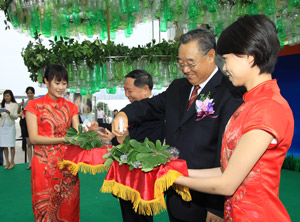 More than 3,500 bottles were collected for a 4m recycling tree (Photo: Chinaplas)
The special focus at this year's event was green or eco-friendly plastics, as organiser
Adsale Exhibition Services
(Hong Kong / China;
www.adsale.com.hk
) encouraged visitors to gather 3,528 recycled plastics bottles – a new recycling record – which were then transformed into a 4 m tree. Countries or regions banded together in 11 different pavilions at this year's event, which also boasted an eco-friendly plastics conference as well as more than 40 technical seminars.
Next year's fair will be held in Shanghai and organiser Adsale has already said it expects the event to break new grounds. Current predictions are that the total exhibition area will exceed 200,000 m
2
, while international visitor numbers are also expected to rise once again to 2,600.
10.06.2011 Plasteurope.com [219586-0]
Published on 10.06.2011